Ramen-related books can be found in the magazine sections of bookshops and convenience stores. Recently, Niigata's town magazine 'WEEK!' has been talking about the Ramen Grand Prix, with a series of features on both light and thick ramen.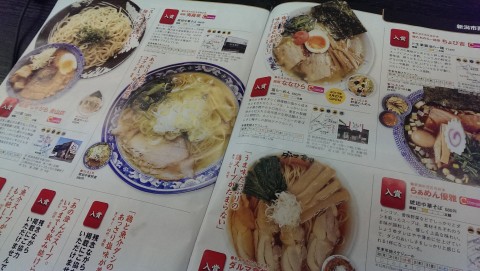 What was interesting about the special feature in WEEK! was that instead of deciding on a ramen grand prize for Niigata Prefecture as a whole, the grand prize was decided for each region, each ward of Niigata City and each municipality. I was surprised at how many ramen specialities there are in Niigata.
Niigata is known as a hidden ramen kingdom. The number of ramen shops per 100,000 inhabitants ranks third in the country. The four main types of ramen in Niigata are Tsubame-Sanjo type ramen, Niigata light ramen, Niigata thick miso ramen (also called Makimachi style miso ramen with split soup) and Nagaoka ginger soy sauce ramen. While other prefectures usually feature one ramen per prefecture, Niigata is quite unusual with four major ramen.
Ranking of ramen shops: http://todo-ran.com/t/kiji/11806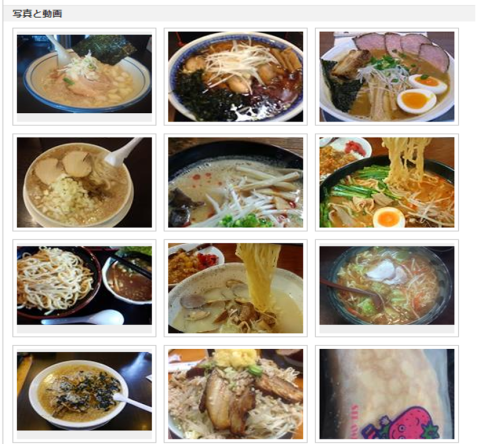 From the Facebook group ' Niigata Ramen Club '.
Such a love of ramen among Niigata Prefecture residents can be clearly seen in their Facebook and Twitter posts. Most of the food photos uploaded to Facebook by friends from other prefectures are posted at trendy restaurants and cafés. However, friends in Niigata like ramen anyway! Even during the year-end and New Year's holidays, "The last bowl of 2013! or "The first ramen of the year!" and "The first ramen of the year! And the number of "Likes" for each ramen post! and "The first ramen of the year!
There is a popular group on Facebook called 'Niigata Ramen Club', where photos of ramen are posted daily. If you are interested, please visit! →https://www.facebook.com/groups/menbu/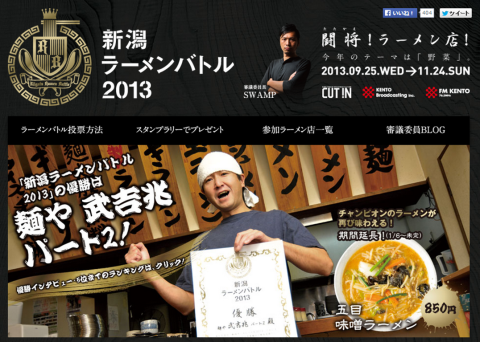 From the official Niigata Ramen Battle 2013 website
The local media also organise a number of ramen-related projects. At the end of last year, the Ramen Battle 2013 was a lively event, in which participating restaurants were asked to create original menus with a specific theme and consumers participated to determine their ranking. The event was organised by local community radio station FM KENTO. The free paper CUT IN published at that time won the top prize in the content quality category of the 'Japan Free Paper Awards'.
Niigata Ramen Battle 2013: http://www.fmkento.com/rb/
As you can see, although it may not be well known outside the prefecture, Niigata's ramen fever is really hot! When you come to Niigata, rice, sake and fresh fish are great, but why not try at least one meal of 'ramen'?