The weather in the Ryotsu area was not flattering, with snow falling, so we decided to go to the southern part of Sado as is our usual practice in such situations. What this means is that if you go from the Kuninaka Plain, a plain in the centre of Sado, south across the mountains of Kosado to the Koshisa Strait coast, the northerly winds that blow over the Sea of Japan in winter often weaken considerably and the weather is often mild.
This issue therefore reports on a walk through the town of Ogi.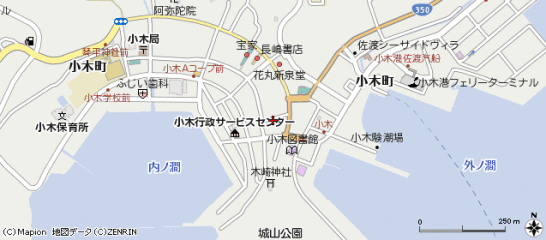 When you live in a rural area, not just on Sado Island, you tend to drive everywhere you go. I think that cars only connect dots with lines, making it difficult to experience a place as a surface.
If the car is a spaceship, then the road from home to work is outer space for me, and am I the only one who thinks that somehow this leads to a feeling of stagnation in the local city? (Original story: Keita TOKAJI, Ayatsura the Idiot!)
In such a situation, if there are places where pedestrians have a walking space where they can walk, they become an oasis for local city dwellers. Sado Ogi is one such place.
On a previous visit to Ogi, I saw a kind of pamphlet promoting tourism in Ogi. There was a catchy phrase in it.
"Ogi shina shina town walk".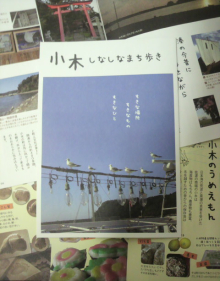 Portrait cited: http: //ameblo.jp/sadokazamachi/entry-11253941325.html
A walk in the city of Shishina.... Excellent! Wandering around the town will bring your body back to life after being suffocated in space. It seems to bring back something that was lost.
In his Passages, Walter Benjamin also discussed pedestrians wandering along the promenades of Paris in conjunction with urbanism. It is not clear whether the disappearance of pedestrian spaces or the disappearance of pedestrians comes first, but it may not be a question of which comes first in the relationship between supply and demand.
In any case, in a region that has become too car-oriented, the act of 'wandering' or 'silent walking' is an act of becoming a pedestrian and maintaining and expanding walking space, a revolutionary act that extends the point-and-line experience of a place to a surface experience of a place..!
Now, let me tell you about the Ogi Shina Shina town walk, together with Gary Moore's 'A Walk in Paris'.
After a long preamble, when we arrived in Ogi, there was no snow and the sky was clear.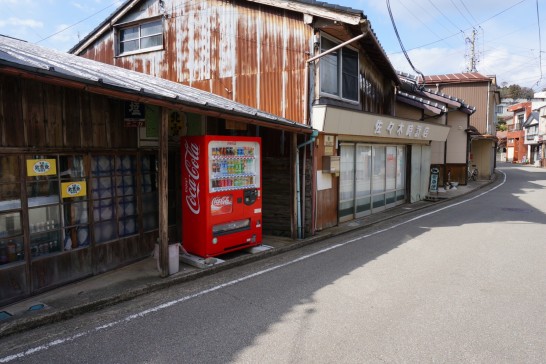 The walking space in Ogi town stretches in a semi-circle around a bay called Uchinojun. This time, I wandered from the Ogi Library area towards the Ogi A Co-op area, turning around halfway and walking past Kisaki Shrine to Shiroyama Park.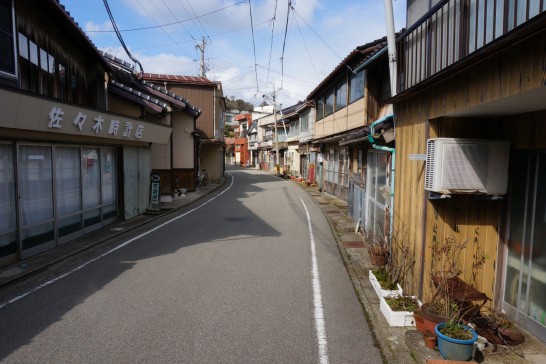 Why is it that this seemingly ordinary residential area is strangely exciting to walk through?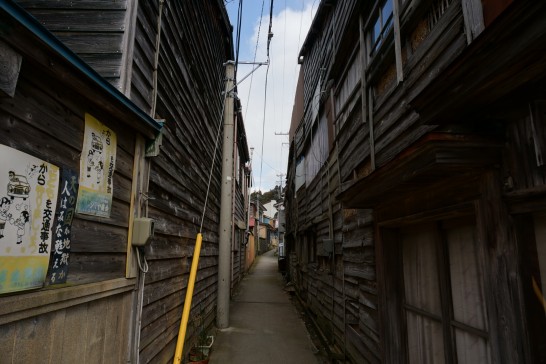 This is probably because the paths leading from one street to another are so narrow that they invite pedestrians who have been poisoned by the motorised world into an extraordinary world.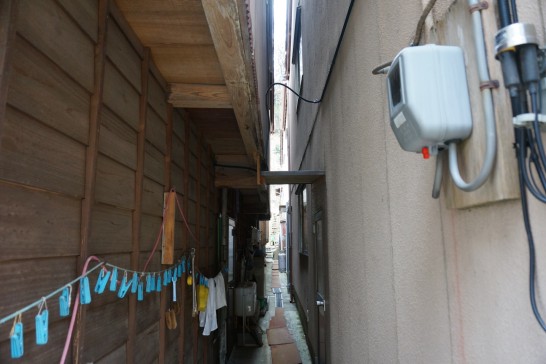 Places like this, which are full of life, also seem valuable to people living in a car society.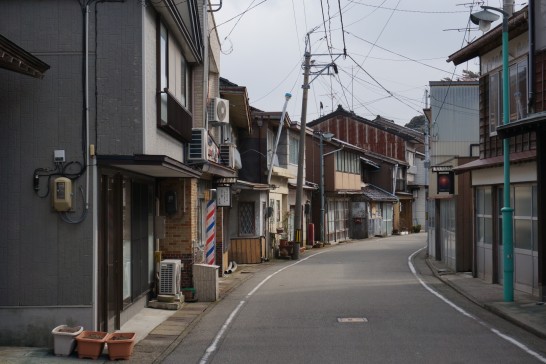 Barbershop in the town. Walk for a haircut.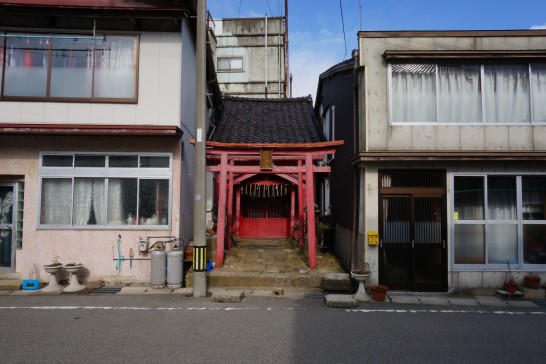 A small shrine, tucked between buildings.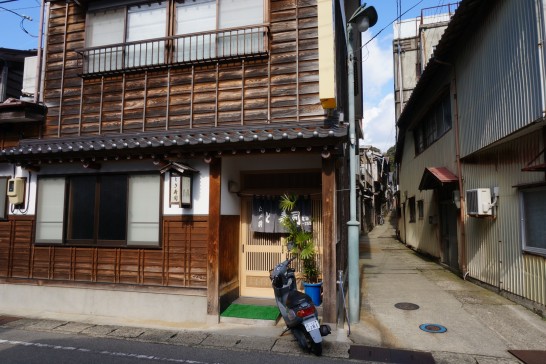 From the side of Toki-Sushi ...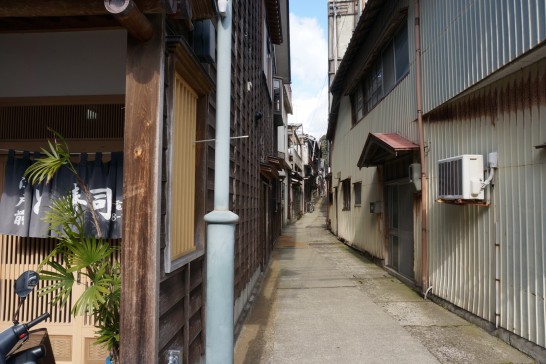 The small road that goes into the town is, in my opinion, the best narrow road in Ogi Town.
This atmosphere. I can't get enough of it.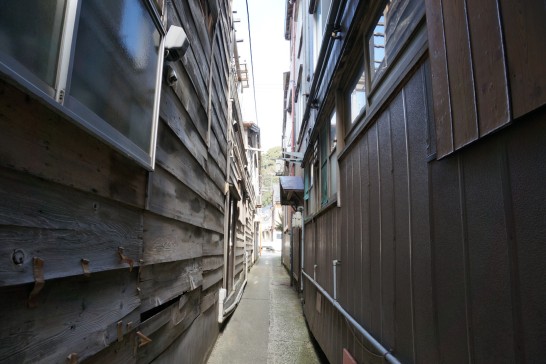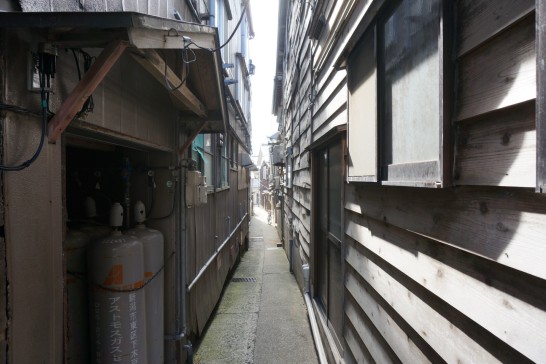 On the way, a group of neighbourhood kids jumped out with gas guns in hand. I was engrossed in the narrow streets while the small gangs of the town played survival games. Their nondescript place of life looks like a precious place to me. I am grateful that a place that is a legacy for the future continues to be a place of life today. I hope that when they grow up they will never forget how much they cherish this place.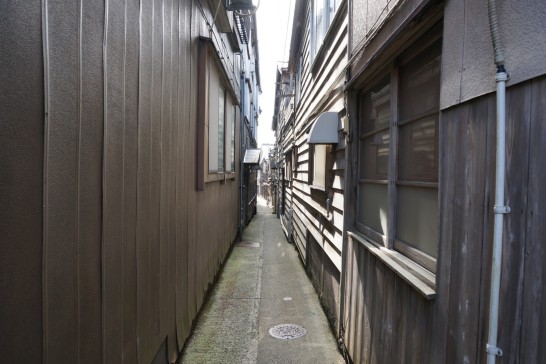 But why do I like these places so much? I'm beginning to think that this is a kind of fetish myself.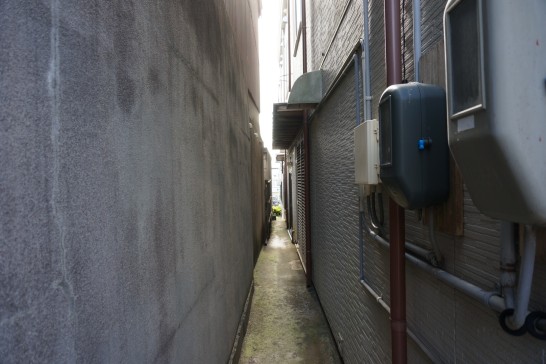 However, it is hard to resist.
The pathway leads to another street. There are several well-known shops on this street.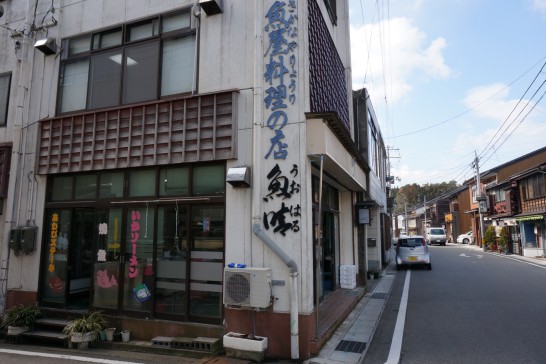 Uoharu (Fish Haru). The ground floor is a fish shop and the second floor is a restaurant. Fresh seafood is available.
魚晴:http://tabelog.com/niigata/A1501/A150103/15000974/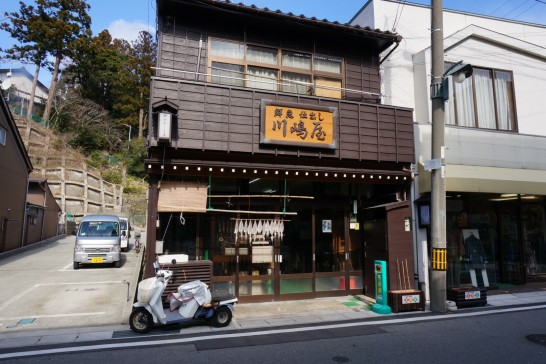 The shop opposite is Kawashimaya, which sells fresh fish and caterers. They also sell seafood online via their website.
Kawashimaya: http://www7.ocn.ne.jp/~sado-kaw/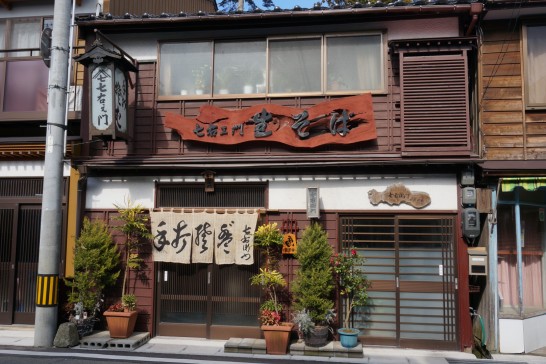 Next to Kawashimaya is the raw soba shop Shichiemon. The raw soba (buckwheat noodles), which cost 500 yen per bowl, is superb and a typical Sado soba experience. I once ate three bowls when I visited the shop.
Shichiemon: http: //r.gnavi.co.jp/ewp22gbg0000/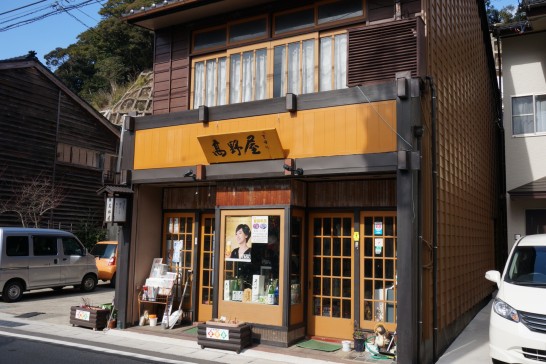 Next to it is Takanoya, a liquor shop. The bright atmosphere of the shop makes you want to visit.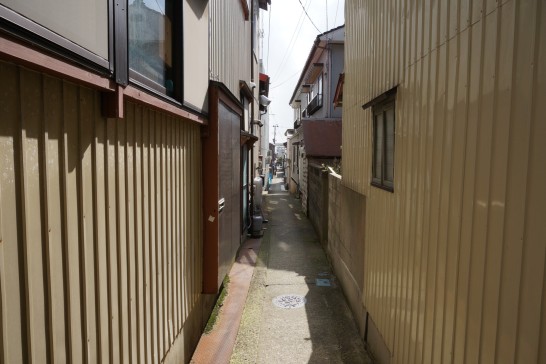 Further narrow road hunting continues...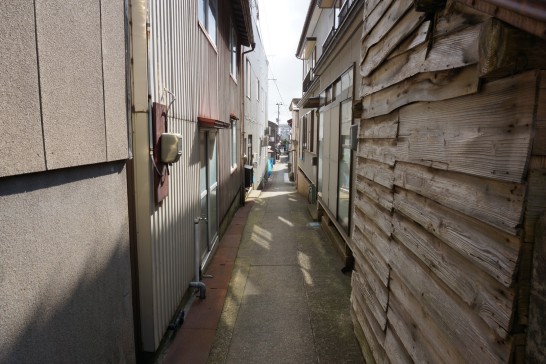 The last shop that cannot be forgotten is Kyujiro-ya.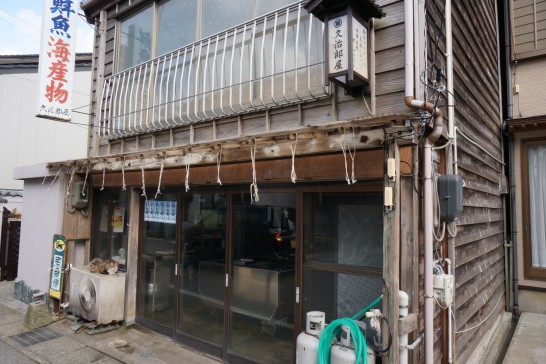 At Kyujiro-ya, you can get the finest "chin dashi" (flying fish) for use in "chin dashi".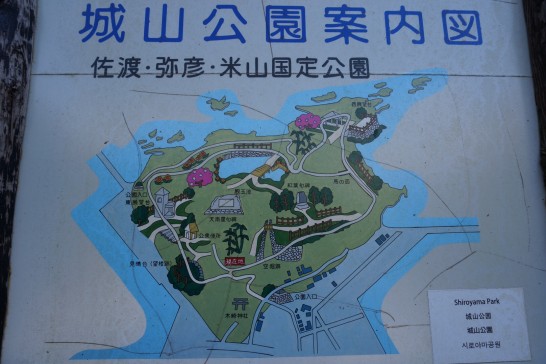 On the outskirts of the town there was a park called Shiroyama Park. A steep slope led up to a large grassy flat area.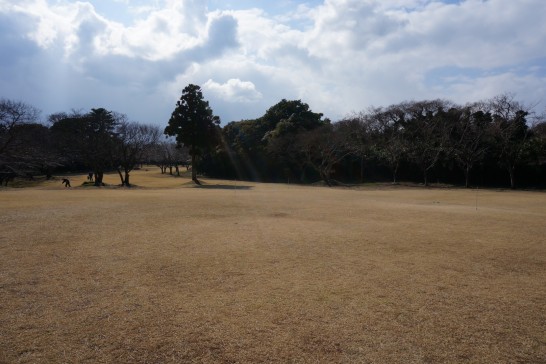 Ideal for playing catch. There seemed to be cherry trees planted here, so you can watch the cherry blossoms in spring.
So, how was Ogi Town?
There was a walking space there that was full of a strange and fascinating charm. There are of course many more spots that have yet to be introduced. As a 'pedestrian of Sado', I would like to report regularly on Ogi-machi from now on.
The Shukunegi area of the same ogi will be reported on again in due course from a pedestrian perspective.
For those of you who live in rural areas, driving to the shopping mall on holiday is fine, but why not get out of the car once in a while and take a leisurely stroll through your local town?
スポット情報