Many people are familiar with the Shinji Mizushima Manga Street in the arcades of Furumachi 5-bancho in Niigata City. However, that is not the only XX Street in Niigata. Did you know that there is a "Yokai Street" in the same Furumachi area, Niitsuya Koji, in front of the "Echigo KOME&SAKE Koryukan Nazira"?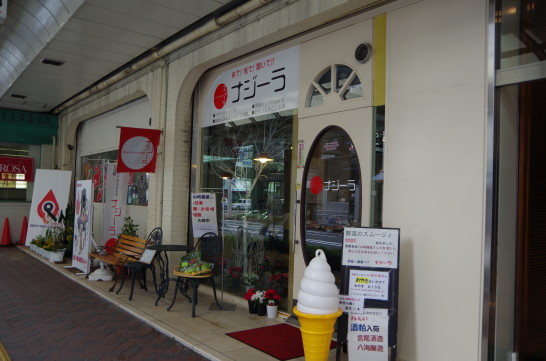 When hearing the term 'Yokai Street', many people think of the one in Ichijo, Kyoto, or Kitaro Road in Sakaiminato City, Tottori Prefecture. However, Niigata Prefecture, in fact, is said to have the 'largest number of yokai in Japan'.
Here is Yokai Street in Echigo, the land of yokai!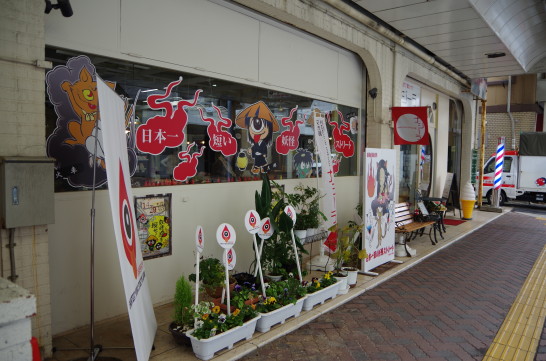 Hm!
There are flower beds, face-painted signs and stickers on the glass, but ...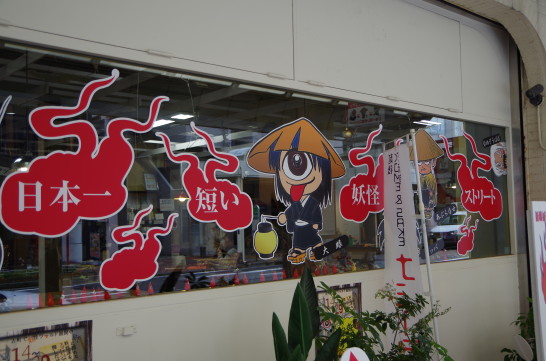 しっかり書いてありました。「Japan's shortest yokai street.」!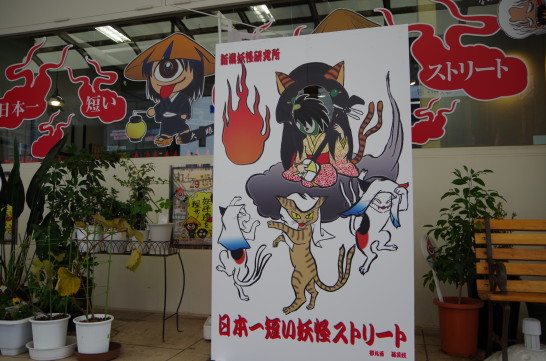 ねこ、目玉、河童、火の玉と、なんだかかわいいデザインの妖怪たちが描かれています。
This Yokai Street was organised by the Niigata Yokai Research Institute.
There was such an institute? I was surprised, but when I looked at the website, I saw the names of Niigata Nippo, NST and other local Niigata corporate members... It seems to be an organisation that also carries out proper academic research.
Niigata Yokai Research Institute: http://www.geocities.jp/fumimalu/youkaikenkyujyo.html
The representative has also published a book.
この新潟の妖怪ストリートは、2013年8月に始まったそう。それにしても短く、数歩で端から端までいけてしまう。
I don't think it's a bit lacklustre with just this... I was thinking.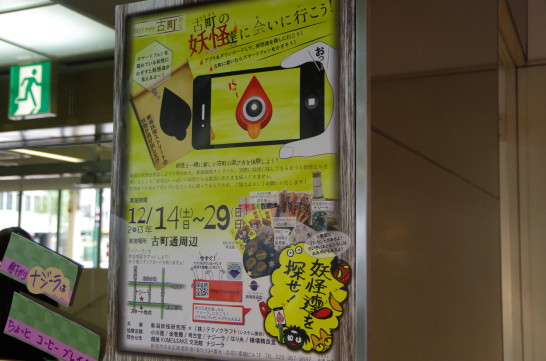 昨年12月にはスマホを活用した妖怪を探せ!イベントをやったそう。妖怪とスマホ!古いものと新しいものが一緒にやってきたようなイベント!
It seems like a great way to experience the fun, history and culture of the city of Niigata through yokai. I wish I could have participated!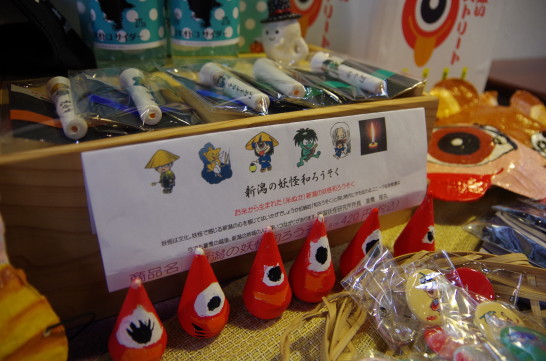 また、妖怪ストリートが店前に設けてある「越後KOME&SAKE交流館ナジーラ」さん入ると・・・ 中には妖怪グッズの取り扱いもありました。かわいらしい火の玉くんのろうそくや
こんな怪しげな薬まで(笑)なんだか温かみがありますねぇ。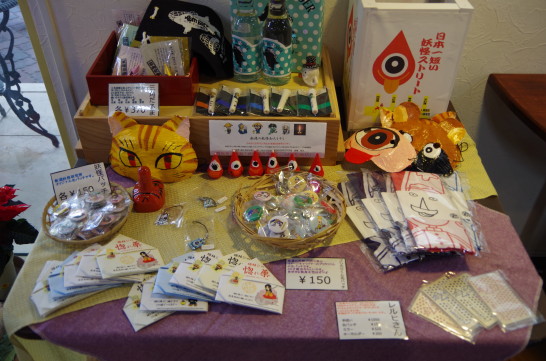 In modern life, there are few opportunities to think about yokai. However, yokai are beings created from life, the land and the environment. I thought that knowing about yokai in Niigata might lead to knowing about the history and climate of Niigata's land.
Spectres in Niigata. Why don't you all turn your eyes a little to them?
Spotlight.
Japan's shortest yokai street.
Address: 894-1, Nishiborimae-dori 6-bancho, Chuo-ku, Niigata City.
Organiser: Niigata Yokai Research Institute.