Tsunan, Niigata (August 4th, 2022) — Tsunan sake brewery is proud to announce the launch of "Yukikamoshi", its newest sake brand brewed with Niigata snow in Japan. With a core mission "Brew for future", Tsunan is more than just a Japanese sake, it is a lifestyle. Proudly rooted in Tsunan, our sake embodies the spirit of coexistence and the remarkable quality found in the region.
I'm asking 3 more questions to Mr. Atsushi Kabasawa to find out more about his sake mission and vision statement, the sake culture in Niigata, and what he has planned for the future.
If you haven't caught up on his last interview, I encourage you to dig through the archives.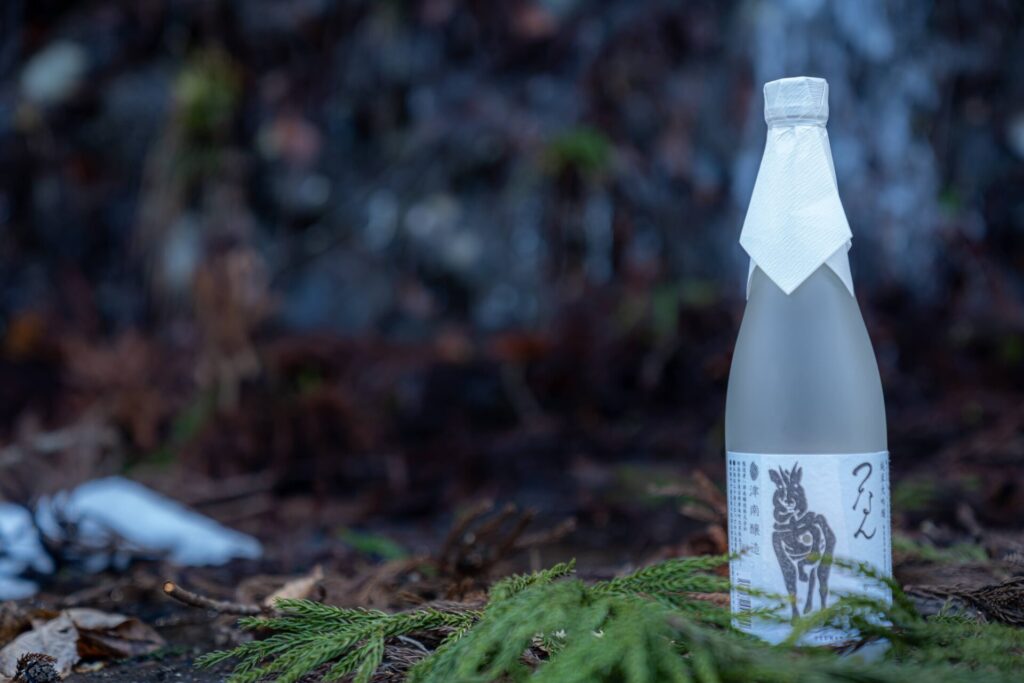 "Yukikamoshi"
5."Brew for future" is the main part of Tsunan's philosophy. What's your approach to expressing them?
I want people to experience a harmony with nature. The impact of industrialization on the environment has led the way with certain positive and large negative outcomes. With that purpose in mind, it's important to make sake well. Because sake brewing is a means to connect people. 
We think the community involvement always comes first and that results in happy experiences by meeting customer needs. Brewing sake is requiring skillful incorporation of the power of nature with a little bit of human touch. For all of our sake, we will brew community sake for our bright future.
6. What has been the most challenging part of your journey ?
Our company was on the verge of collapse and I was in debt for a year. I had business admin experience in the food industry but no experience in the sake business world. In this sense, I was the company president but also a rookie. There were actually lot of aged sake in a tank, so I tried my best to calculate sales to pay off debt. But the most challenge part was building rapport with my team members. Our Toji (master sake brewer) has the artisan spirit and if he says "No", then that means "No". So I tried my best to make enough time to discuss and make sure that doesn't happen. I think team development has been the most difficult overall.
7. Where do you find inspiration as you take the brewery forward ?
The values that guide our decision making are spelled out in 8 MINDS. Put simply, 8 MINDS challenges us to put the needs and well-being of the people we serve first. 8 MINDS is more than just a moral compass. We believe it's a recipe for community business success.
8 MINDS
① LAND borrowed from children
土地は先祖からの授かりものでなく、子供たちからの預かり物 (未来に返さなくてはいけない)
② HOPE SOAP
楽しんでいるうちに、いつの間にか課題を解決しているデザイン。
③ Constellations
点と点をつなぎ、その形に意味をつけることで将来持続的に残るものになる
④ Plus-SUM Market
奪い合いではなく、総和を増やす。みんなが勝てる方法を探す。
⑤ Water springs from the land
水槽は湛え泉は湧き出る(ゼロイチの土壌を大切に)
⑥ Redesign local food
「地域を食べる」をデザインする
⑦ CUSTOMER FOODS
食品開発の民主化。ものづくりを解放した社会へ
⑧ FUND MADE
適量生産適量消費を目指して生産者と消費者の関係を再構築
Brewing sake in Tsunan sake brewery is not industrialization. That's more like entertainment as a community-development. I'd like to collaborate with people who have the same philosophy and culture as ours to create products, and share them with every sake drinkers around the world.
Up next in our Interview with a Niigata Sake Brewer series: Takizawa, Toji(the master brewer) of Tsunan Sake Brewery..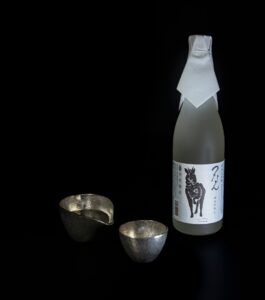 "Yukikamoshi"
< SPECIFICATIONS>
▷Sake Style: Junmai Daiginjo-shu.
▷Rice polishing ratio: 40%
▷Ingredients: Rice (Japanese), Rice koji (Japanese)
* All rice is from Tsunan, Niigata Prefecture.
▷Alcohol content: 15%.
▷Content: 720ml
More details of "Yukikamoshi" can be found at
You can oder directly from this online store, as well as internationally.
"Brew for future ~共生する未来を醸成する~"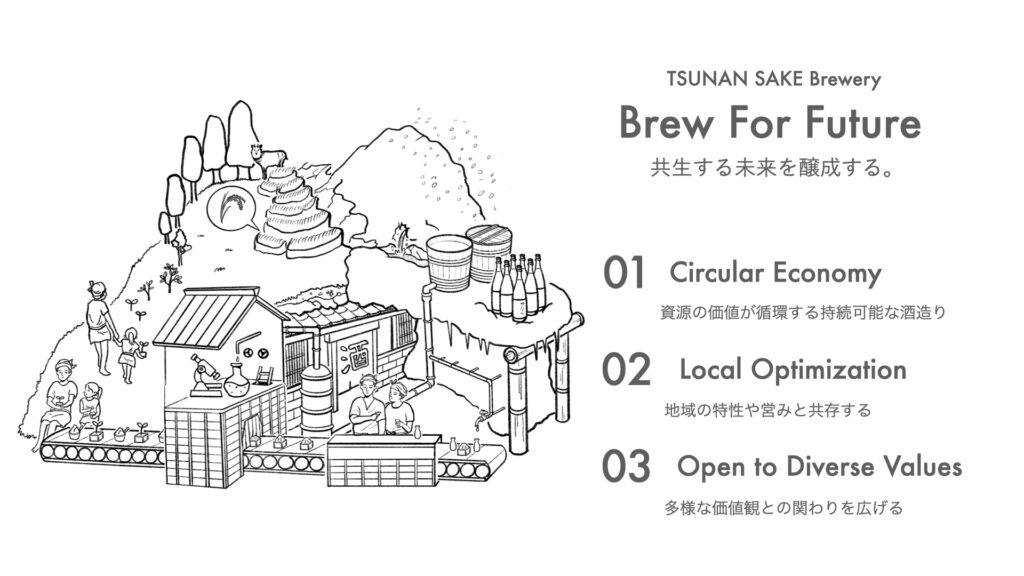 New sustainable concept "Brew for future" by Tsunan Sake Brewery in Niigata
Founded in 1996, Tsunan sake brewery is the maker of quality ethical sake.
Our mission is to achieve the new lifestyle, living with Sakagura.
For more information, including the products, visit Tsunan Sake Brewery