Defining 'local cuisine' is difficult.
This is because there is no clear demarcation with the home-cooked food we eat every day.
'Is this local cuisine?' I am often confused.
I once asked Dr Nobuo Honma, a food culture researcher and the head of the collection of the Honma Library Niigata Food Library, "What is local cuisine?" I once asked him the question.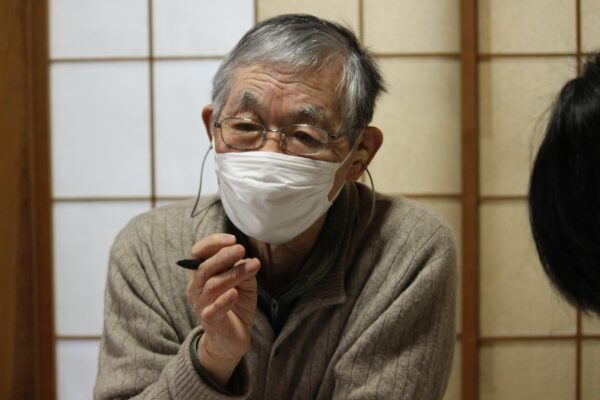 According to Dr Honma--.
Basically, they are characteristic dishes that are made from ingredients available in the region and have been supported and handed down over a long period of time by the local people. Some of Niigata's best-known examples include 'nokpe', salmon dishes from Murakami, 'sasazushi' from the Joetsu region and 'nina' from the Chuetsu region."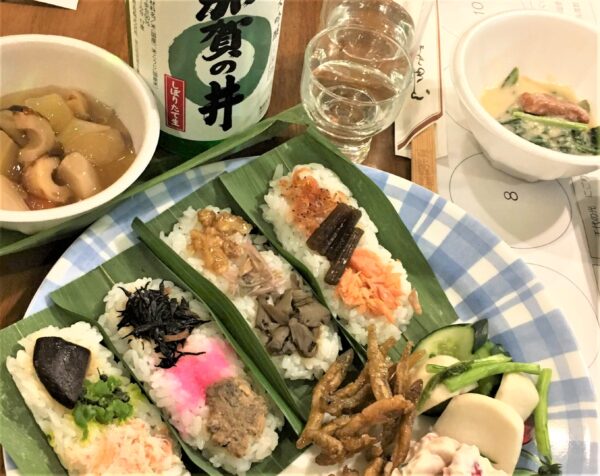 The same is true of the local sake that can be found all over the prefecture when it comes to 'long-loved and handed down from generation to generation in the region'. We were reminded that it is only natural that local cuisine and Niigata sake go hand in hand.
Many households in Niigata make large quantities of "nokpe" and "kiriboshi-daikon", especially during the year-end and New Year holidays, even in 2021. Niigata City's Honmachi Market is bustling with people buying scallops, dried shiitake mushrooms, dried radish, taro and other ingredients. The year-end and New Year holidays are also the season when people are most conscious of local cuisine.
We therefore asked people involved with Niigata sake in various ways how they enjoy the local cuisine and Niigata sake.
If you want to combine this with the year-end and New Year's classic.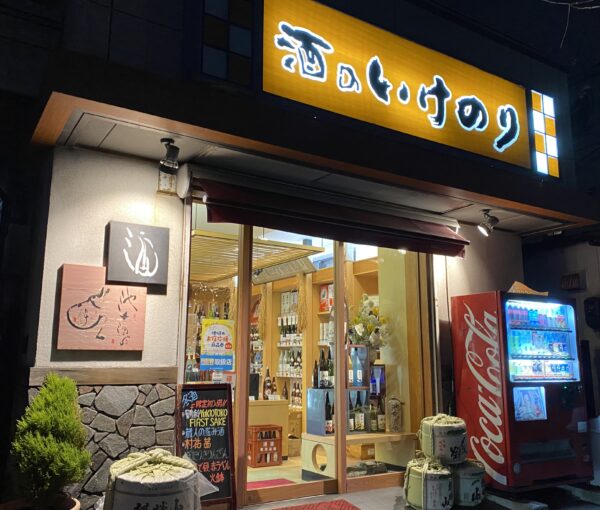 A representative example of "Nokpe" was given by Mami Ikenori of Ikenori Sake Shop, a long-established sake shop on Higashibori-dori, Chuo-ku, Niigata City. Mr Mami is a qualified Niigata sake 'gold master'.
'Local sake in the prefecture is said to have different characteristics in Joetsu, Chuetsu and Shimoetsu. 'It seems that the dishes with flavours suited to the local working environment, created by differences in the natural environment, and the sake with flavours that go well with those dishes, have been favoured'. For example, in the Joetsu region, dark flavoured food is favoured, and sake with a flavour to match it is relatively common.
'When you think about it, "nokpe" also differs from region to region,' says Ikejori.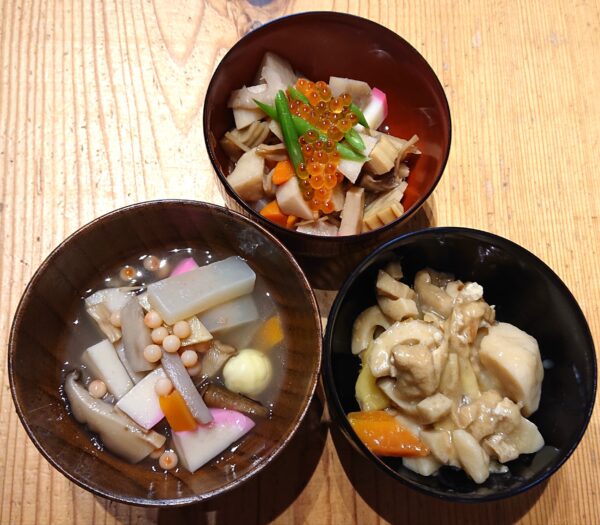 'NOPPE' from different regions of the prefecture. Joetsu (right), Chuetsu (above) and Shimoetsu (left). In Joetsu, the last step is to dredge the kudzu (potato starch).
We asked his wife, Yoko, about the Ikejori family's "NOPPE".
'Dashi is made from scallops and dried shiitake mushrooms. It contains taro, carrots, burdock root, bamboo shoots, konnyaku, lotus root, kamaboko, salmon roe and finally salmon roe. It is rather soup-like. I don't put in ginkgo, lily bulb and kuwai because my husband doesn't like them (laughs)."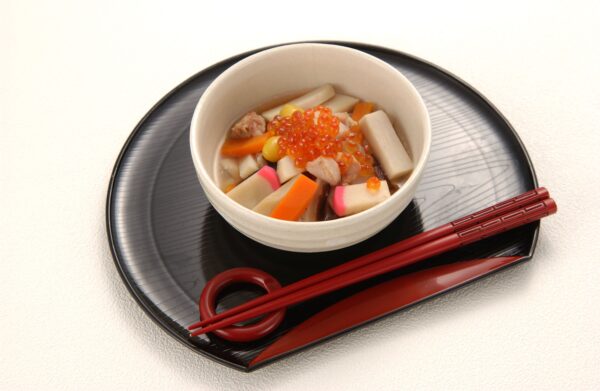 Niigata City's "nokppe" (from Niigata no okazu [Niigata dishes], Kaikosha). The Ikejiri family's "nokpe" is close to this.
Mami says that at the Ikenori household, the local sake that goes with the "nokpe" is "made at the end of the year and eaten for the first time at New Year's, so we want to welcome the New Year with a good sake, so every year we give Ishimoto Shuzo's 'Koshinokanume Daiginjo Super Special' as the sacred sake and eat the "nokpe" with that sake.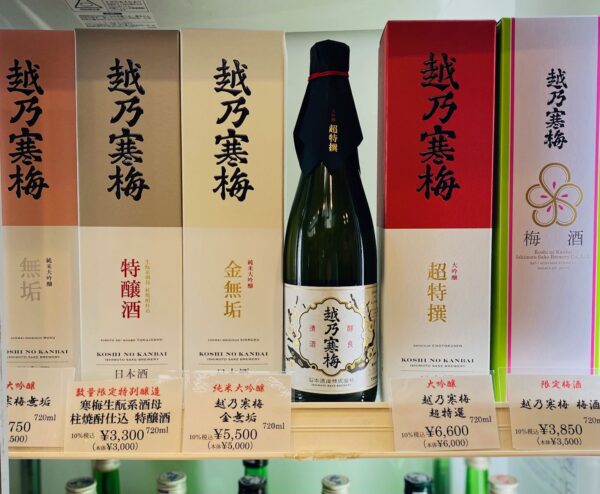 Yoko says: "As we taste the dashi, daiginjo-shu goes well with it, as the aroma and flavour are not too pronounced." Both food and sake are served cold.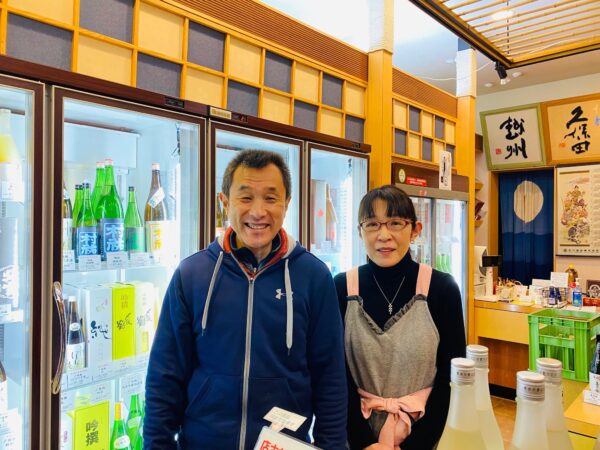 Mr and Mrs Mami and Mrs Yoko Ikejori support the sake culture of the Furumachi area as long-established liquor stores.
Another year-end staple, kiriboshi daikon, was mentioned by cookery researcher Yuka Nakajima, a qualified sake connoisseur and Niigata sake honourary ambassador.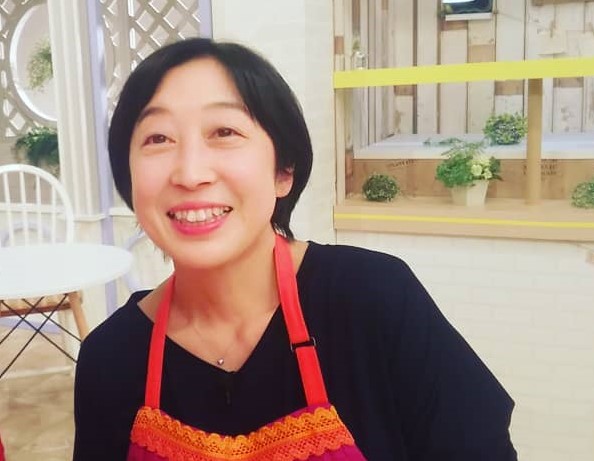 'The crispy texture of kiriboshi daikon is very appealing. It is also interesting that the way it is cut and the degree of sweetness and spiciness differs depending on the maker. Ms Nakajima, who was born in Osaka but moved to Niigata when she got married, offers an interesting and objective appraisal of local cuisine.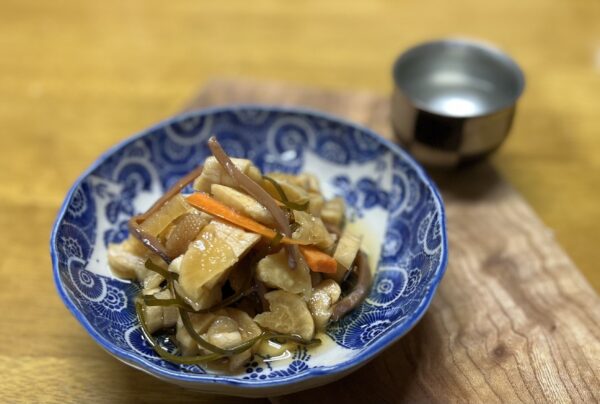 As for the local sake that goes with this dish, Nakajima says: "I think it goes very well with a dry junmai ginjo that has been heated just a little bit hotter than human skin. I think it's the perfect combination when you want to drink slowly and carefully", says Nakajima. Just listening to him makes me want to give it a try.
If you want to match it with local cuisine in the broadest sense of the word.
Hideo and Yukiko Watanabe, who are both qualified as ' gold masters' of Niigata sake and enjoy studying the compatibility of Niigata sake and food at home (laugh), suggested local sake that goes well with Niigata's autumn and winter produce.
Cooking with seasonal produce, which is a blessing of the climate, is also a part of the local cuisine.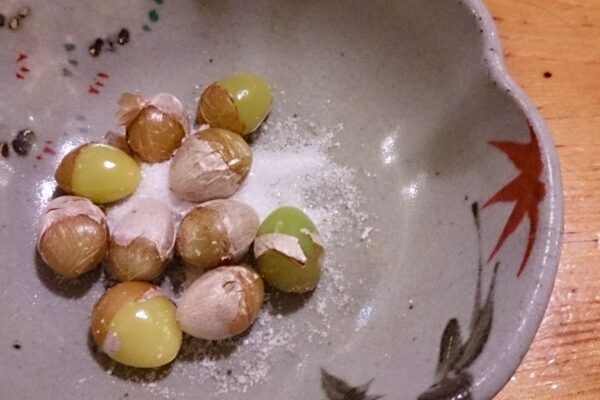 Ginnan from Muramatsu in Gozumi-shi and Kinshi-hai Shuzo's 'Echigo Toji Dry' are an easy combination to enjoy in autumn and winter. Enjoy the bounty of the ginkgo nut production area near the famous Jikoji temple, known as the 'golden village', with a glass of local sake.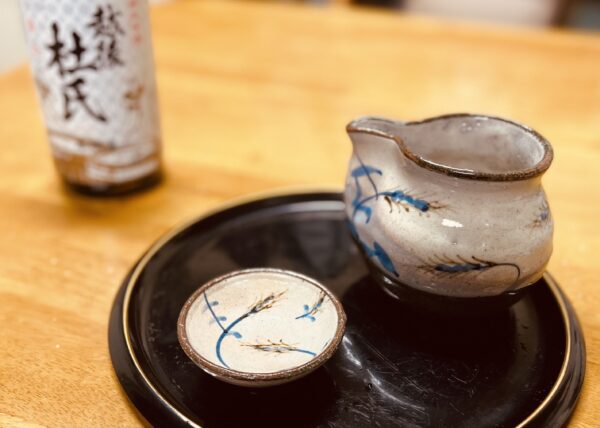 The next introduction was a combination of Murakami, a castle town in the north of the prefecture.
For a refreshing aftertaste with grilled salmon, I recommend Taiyo Shuzo's Taiyo Zakari Junmai Ginjo, and for a deeper flavour, Miyao Shuzo's Shiboritake Nama Shuzo.
It would be interesting to taste sake from the two breweries in Murakami City with the same dish to see the differences.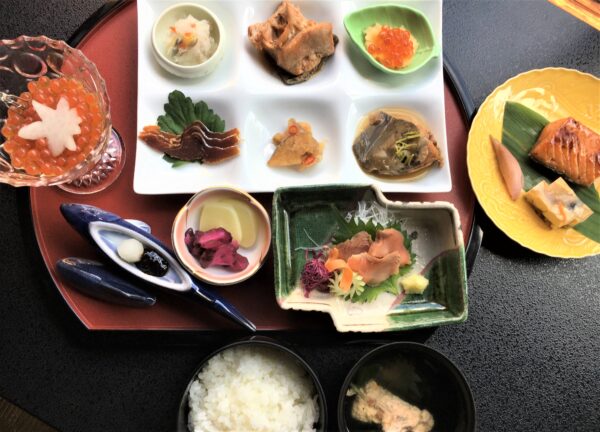 In late autumn, when salmon return to the Miomotegawa River, kappo (Japanese cooking restaurants) and restaurants in Murakami City offer a variety of salmon dishes, including grilled and pickled salmon.
The third was a combination with <cured ham> from the Echigo-Kawaguchi Cured Ham School, where visitors can prepare their own cured ham using the prefecture's brand-name pigs.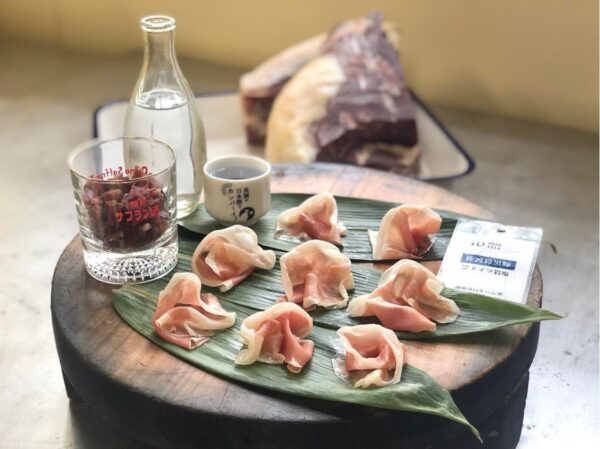 'Cured ham from Echigo-Kawaguchi, Nagaoka City, and Onda Sake Brewery ' Maizuru Kou 88' from Nagaoka City. The flavour and saltiness of the cured ham melds with the rich sake quality'. The cubes in the glass in the picture are also enjoyable to chew.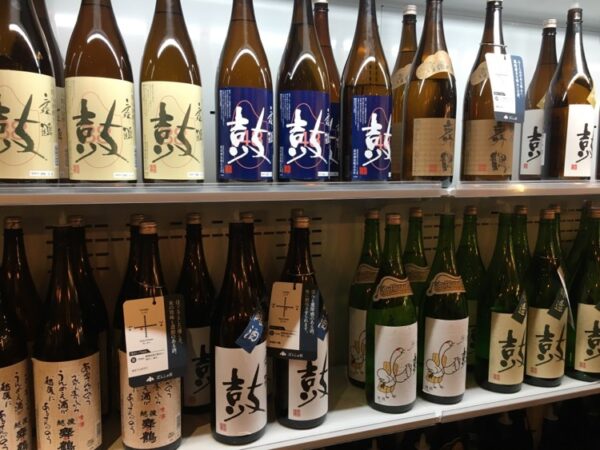 The unique Niigata sake, 88% polished rice, is indeed a real "Mr and Mrs Kintatsu" when paired with cured ham.
The Echigo-Kawaguchi Cured Ham School will start producing and selling cured ham under the trade name 'Minna no Ham' in January 2022. Sales of cured hams are scheduled to start around January 2011, as they undergo a drying and maturing process, but heated hams, sausages and rillettes will be available from 22 years.
We would like to enjoy and explore what Niigata sake goes best with the special ham, sausages and rillettes made with ingredients from Niigata Prefecture.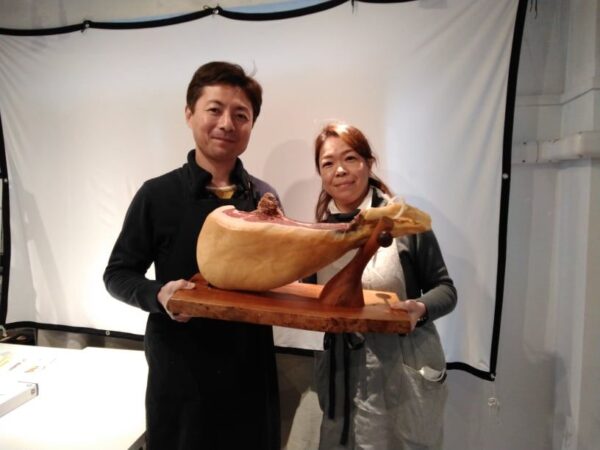 Hideo Watanabe and Yukiko Watanabe, who experienced cured ham making at the Cured Ham School.
The last is a combination of Western-style dishes using typical Niigata winter produce and local sake.
The proposal was made by Tomomi Duquette, representative of Niigata Sake LOVERS, which promotes sake culture to the world.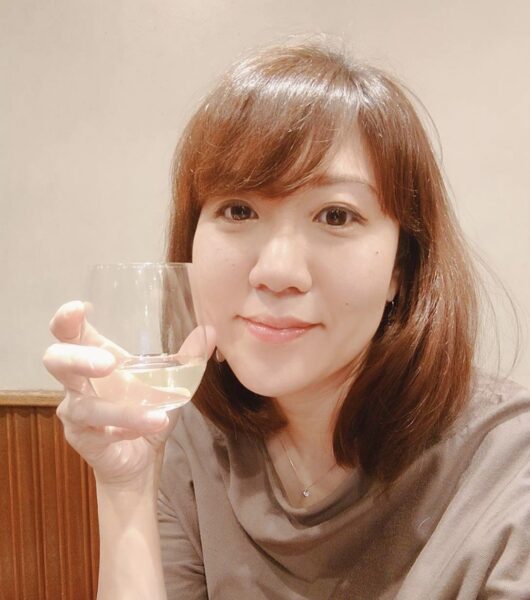 'The cod milt meuniere goes really well with the Hanajikan from Katafune!' The brewery is known for its 'Katafune' brand. Hanajikan, a sweet and sour sake like a noble rot wine, was launched in 2019 as the first annual product in 10 years by the Takeda Sake Brewery in Joetsu City, which is well-known for its Katafune brand.
'The sweetness of the sake raises the richness of the milt. The butter and balsamic vinegar in between creates a new taste with a perfect balance of sweetness, umami and acidity". This is the 'third taste' created by the marriage. You have to taste it to find out.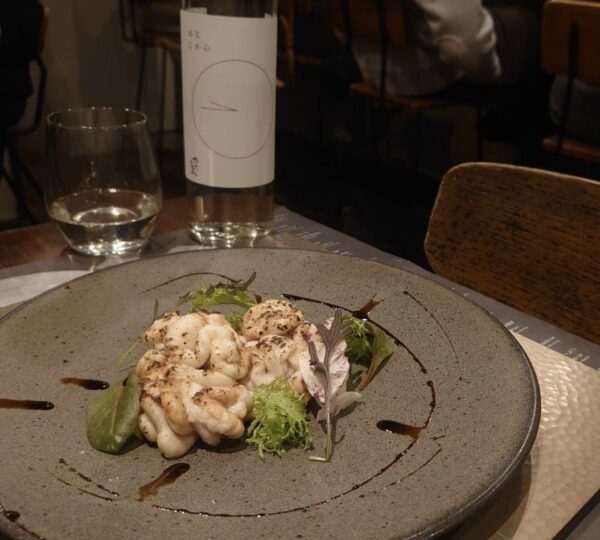 Enjoy the marriage of Hanajikan with [Milt Meuniere].
Enjoy Niigata sake with local and arranged dishes using Niigata ingredients, which appear in all four seasons, as well as at the end and beginning of the year.
Photo cooperation/ Kappo Zenzo, Echigo-Kawaguchi Cured Ham Juku, Tsubame-Sanjo Italian Bit Niigata, Hideo Watanabe, Hope Suzuki.
高橋真理子
2021.12.27