In Niigata City, the annual illumination of the South Exit of Niigata Station and Keyaki-dori Avenue has begun. This illumination is called the 'Niigata Pageant of Light' and has become a tradition in Niigata.
Keyaki Dori is a veritable tunnel of light. The number of light bulbs used is said to be 260,000! That's amazing!
Started as a volunteer in 1987.
According to wikipedia, the illumination of Zelkova Avenue south of the station started in 1987 when volunteers decorated 17 zelkova trees with 30,000 bulbs. Since then, the event has continued for more than 25 years. It has now become a well-known event.
It is now organised by the 'NIIGATA Pageant of Light Executive Committee' and co-organised by the 'Niigata City South Commerce and Industry Promotion Association', with the support, cooperation and sponsorship of many others.
Official website: http://niigata-hikari.jp/main/
What'sNiiGATA?
By the way, this year such a large monument has appeared in the south square of the station.
Burn, What'sNiiGATA!
Here, people can enter. It's quite big when you think about it, isn't it?
And you may have seen this at Yasuragi-moto along the Shinano River in the summer. This seems to be an object from a campaign called 'What's NiiGATA Campaign' by the 'Shimin Committee' of Niigata. I didn't really understand the organisation or the campaign, but the official website says as follows.
The Shimin Committee N-Vision PROJECT envisions the future of the city, aims to create a NiiGATA VISIONARY Life (a life with a vision for the future) and invites you to submit your 'What's' in words and photos to help make Niigata's dream a reality. What is NiiGATA to you? What is NiiGATA to you? What's your NiiGATA? (What's NiiGATA campaign)
Hmmm. I wasn't sure, so if you are interested, please visit the official website ( http://nvision-pjt.jp/ ). Anyway, it looks like they are running a campaign!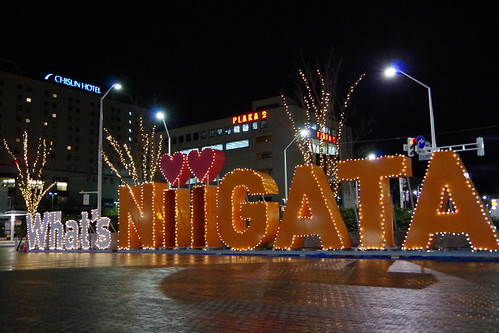 Incidentally, high school girls and couples were taking photos in the 'ii' section. You should come too!
What's NiiGATA Campaign official website: http://nvision-pjt.jp/
Pageant of Light until 14 February.
The illumination around Keyaki-dori will continue until 14 February. The bulbs have all been changed to LEDs since 2008 and the eco-friendly and beautiful illumination can be enjoyed for two months.
In addition, the Pageant of Light's "Find the Heart!" campaign. If you take a picture of a heart hidden in the illumination and show it to the shop where the flag is hanging, you will receive a special offer! It's wonderful to see hearts in the illumination.
Why not visit Ekinan at least once during the winter in Niigata?
ライター Yorimitsu Karasawa(新潟のライター/リサーチャー)