Sake vessels come in a variety of shapes, sizes and materials.
The taste of the same sake can change when the sake cup is changed. The choice of sake cup is one of the great pleasures of sake.
For example, highly aromatic wines should be served in wine glasses with the mouth facing outwards, so that the characteristic aroma can be enjoyed to the fullest. There are also many rules for choosing the right drinking vessel, such as using glass or white inner drinking vessels to appreciate the colour of old sake that has matured and become coloured.
However, just like sake, you should not think too hard about the sake cups, but choose freely according to your taste and mood at the time. If you want to taste Niigata-born Niigata sake, you will also want to choose sake cups that were also born in Niigata. This section introduces a range of attractive sake cups produced in various parts of the prefecture, including those made by traditional craftspeople and artists.
Perfect for summer! Glass drinking vessels
Akiba Glass in Akiba-ku, Niigata City, and Glass Studio Craft You in Kashiwazaki City produce glassware that is particularly recommended for the coming season.
The sake cups produced by Koichi Terui, representative of Akiba Glass, using blown glass techniques, are one-off pieces with a simple yet warm feel. The Awakogane series, one of his best-known works, is inspired by the countryside of autumn in Niigata, and features ears of rice in a subtle golden colour. When poured, the sake takes on a variety of expressions, which is a wonder of its own. The shadows cast on the table are also beautiful.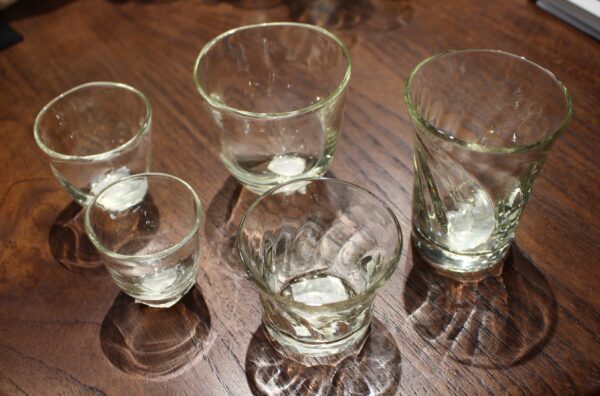 Akiba Glass's Light Gold Series (3 pieces, left) and the Ameiro Series (2 pieces, right), featuring braid.
The glass studio Craft You was established by Yasunori Tokuma in 1991 and is currently working with the BOSILICA and Echigo Bi~doro brands, together with the second generation, Junichi Tokuma.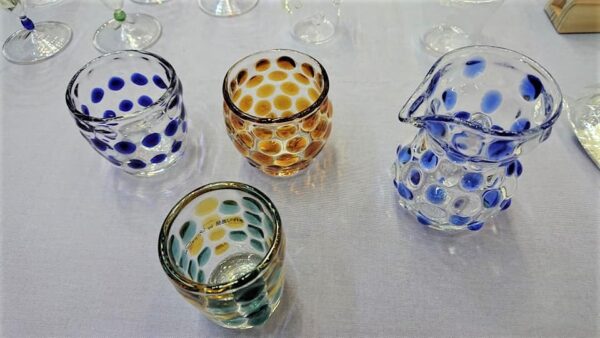 Echigo-Biandoro. It uses a technique unique to heat-resistant glass, and features a beautiful appearance, a sharp taste and functionality that can be used in microwave ovens and dishwashers.
Handicrafted drinking vessels from different parts of Niigata Prefecture.
Upper, Central and Lower Niigata, and Sado. The traditional craft sake cups rooted in each of these regions are also worth looking out for. They are ideal for use on special occasions or as gifts for loved ones.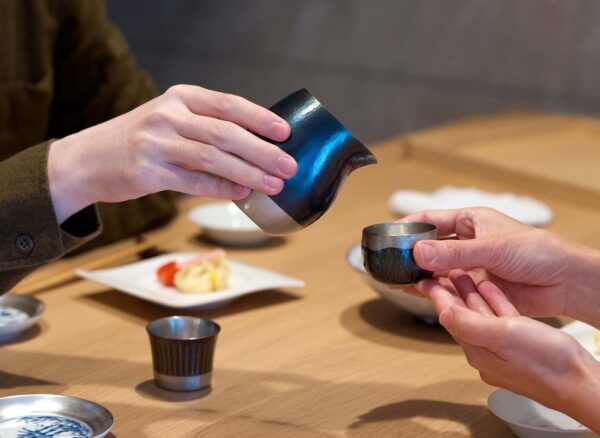 Photo shows hammered copperware sake cups from Tamagawa-do, Tsubame City.
On Sado, Mumyoi ware is famous for its use of Mumyoi, a rare red clay collected from near the Sado gold mine vein. Even today, there are about 10 kilns on the island, including some that produce Mumyoi ware as well as pottery incorporating other soils, stones and techniques.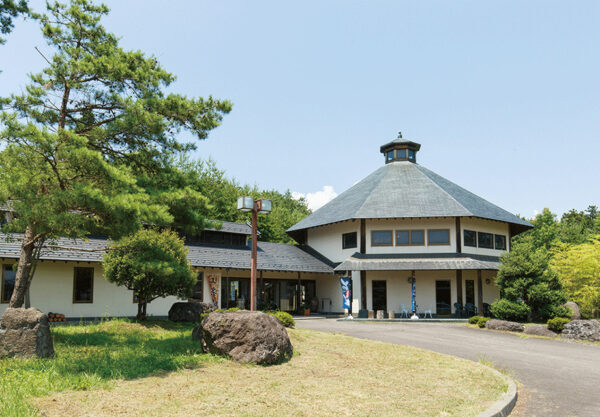 The Tsubakiya Ceramics Museum displays and sells about 1,000 pieces of work from the island's potteries, many of which are sake vessels.
There are also works by two living national treasures of the Sado ceramic art world, Miura Koheiji and Ito Sekisui.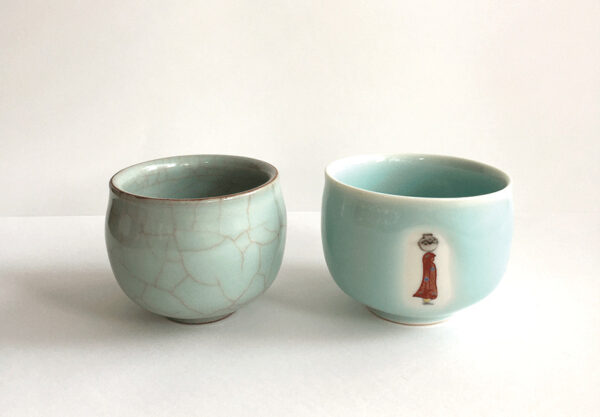 Celadon porcelain goupon (left) and celadon bean-coloured Chinese girl goupon by Koheiji Miura.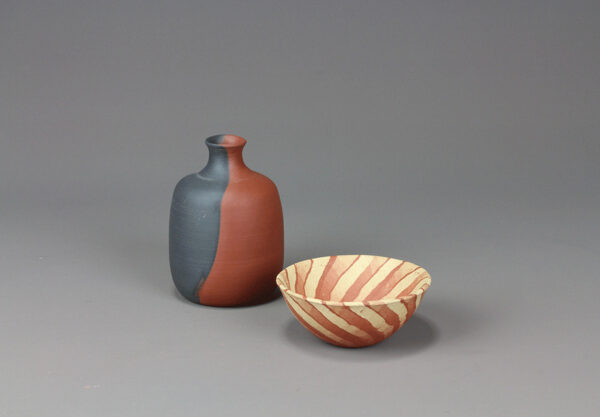 Mumyoi kiln-formed sake pouring cup (left) and Mumyoi neriage-senmon sake cup by Ito Sekisui.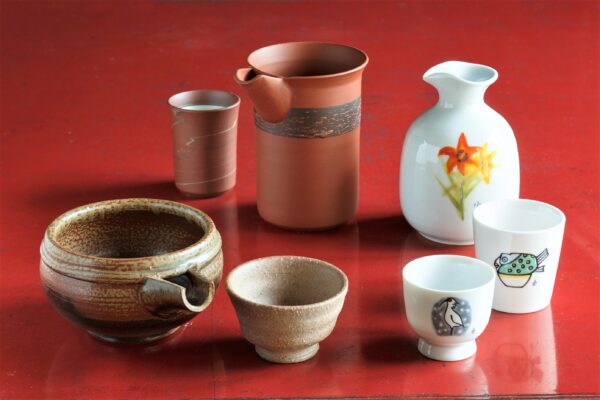 The white porcelain on the right (3 pieces) is 'Sado Monogatari' by Miura Tsuneyama Kohei Kiln. Inheriting the spirit of Miura Koheiji after he passed away, these white porcelain pieces are printed on white porcelain with drawings he made during his travels around the world. The middle (kataguchi and cold sake cup) is Mumyoi ware from Nagayagi Tobo, Aikawa Kyomachi-Dori, incorporating techniques such as fukiyo patterns and kneading. The bottom (kataguchi and gugumi-nomi) are from Kaze Kiln, which is characterised by the gradation of the yakishime and mist-blowing techniques, which do not use any glaze. Kaze Kiln is located on the grounds of Hananoki, an inn in Ogi Shukunegi.
Find your favourite and make it a souvenir of your trip.
The traditional craft of Murakami City, a castle town on the border of Yamagata Prefecture, is Murakami wood carving Tsuishu. It began as the work of samurai during the Edo period, was encouraged by the feudal lord and later spread to the townspeople. The wood is carved and finished with several coats of natural lacquer.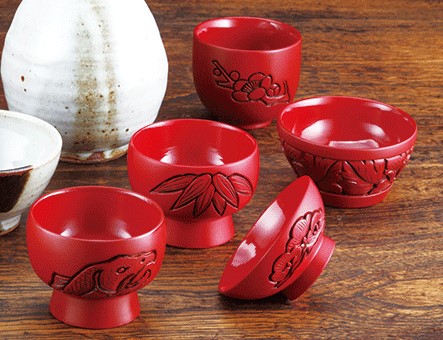 Murakami wood carving Tsuishu (Murakami Tsuishu Business Cooperative), designated as a national traditional craft.
Kikkawa Shuho, founded in 1826, sells sake cups made by lacquer craftsman Kazuo Oda, who uses only layers of lacquer instead of wood to create his Hontui lacquerware.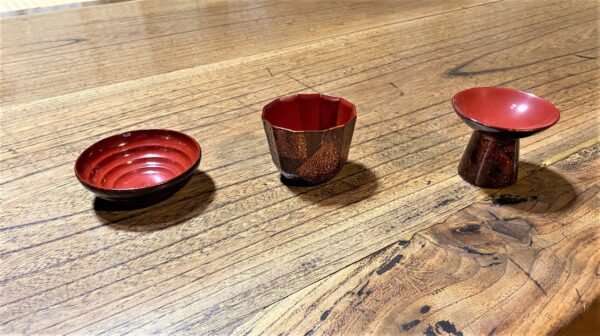 Niigata lacquerware, which has a history dating back to the early Edo period, has also been handed down in Niigata City. Enjoy the unique techniques of Niigata lacquerware, such as bamboo lacquering, which looks like bamboo, on sake vessels.
Tsubame hammered copperware has been made in Tsubame City since the Edo period and is formed by hammering and squeezing a single copper sheet.
Established in 1816 (Bunka 13), the long-established Tamagawa-do, whose brother Nobuo Tamagawa, the sixth generation head of the family, was recognised as a Living National Treasure in 2011, as well as Shimakura-do andFukido, both of which became independent after training at Tamagawa-do, produce and sell Tsubame hammered copperware sake cups, each with its own individual style.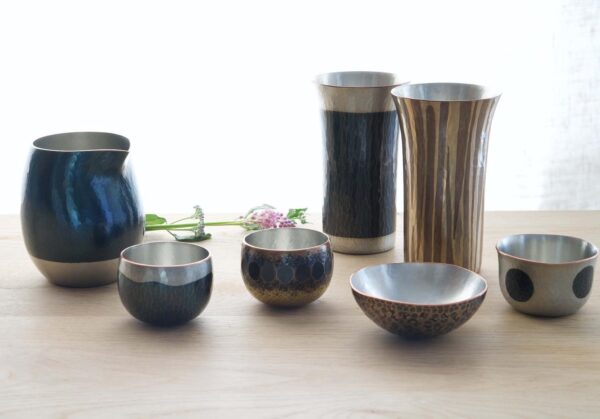 Tamagawa-do's diverse range of drinking vessels. Tours of the production site are available (reservation required for groups of five or more, closed on Sundays, public holidays and other factory holidays).
In Kashiwazaki City, the Hara Souemon workshop carries on the traditional technique of wax castings, which has been practised since the end of the Edo period. The characteristic feature is the mottled pattern that appears on the smooth surface of the piece when it is fired until it is on the verge of deformation.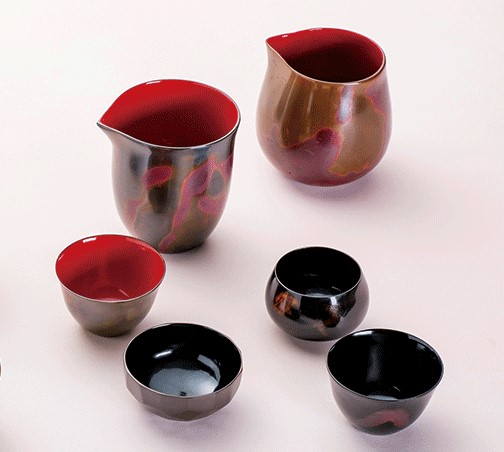 Hara Souemon Studio's spotted purple Toukataguchi and sake cups, for example. In recent years, the company has gained a high reputation abroad and also produces sake cups in collaboration with international designers.
Meet your favourite authors.
The unique drinking vessels made by artists in different parts of the prefecture, who are making ceramics with an emphasis on the local climate, are also worth noting.
In Murakami, northern part of the prefecture, there are pottery studios Yamaya (by Kazuhiro Suzuki), Toi Kobo (by Yoko Fujita) and Sheep Kobo (by Takashi Takahashi).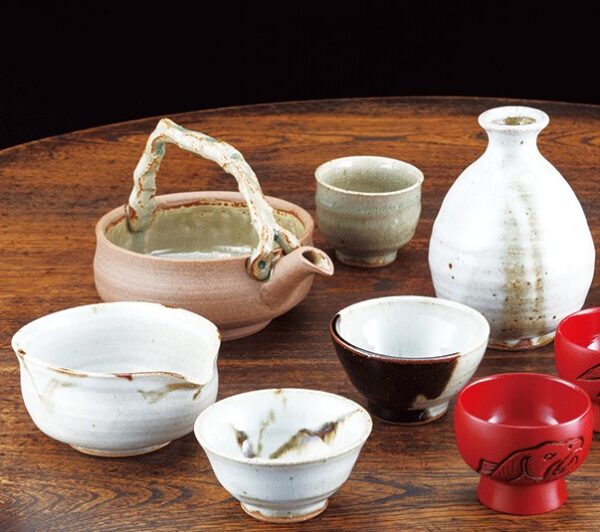 Sake vessels by Tobo Yamaya, whose signature piece is Nuka White, made with a Nuka glaze made mainly from smoked charcoal from rice husks.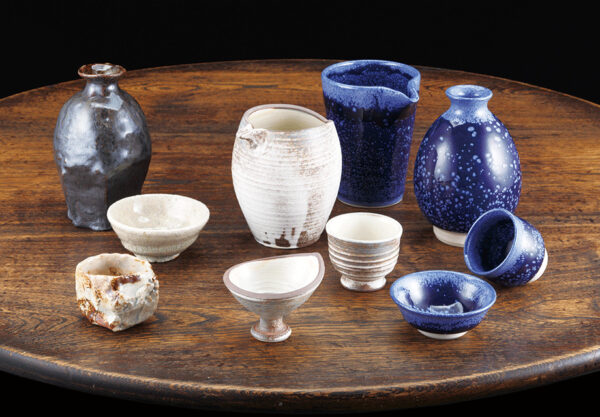 The three pieces on the left (guinomi and tokuri) convey the expression of Toi Studio's clay. The seven pieces on the right are from the Yoitsu Kobo, with the blue sake cup on the right having a galactic tenmoku glaze inspired by the starry sky.
Aojingama ( Mr Ikuo Oyama) opened a ceramics studio in 2012 in the Numadare Terrace shopping street in Chuo-ku, Niigata City. It also offers pottery workshops and pottery-making workshops (reservation required).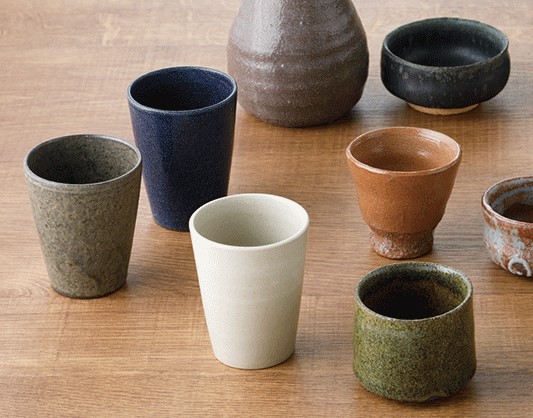 Works by Seinin Kiln. There are also glasses with persimmon ash glaze made from the ashes of persimmon trees grown in Akiba Ward.
The Otsuki Kiln (by Osamu Imanari) is located in the former Muikamachi, Minamiuonuma, and the Aguni Studio (by Eiichi Iguchi) in the former Shiozawa. The simplicity of the clay can be felt by touch and mouth feel.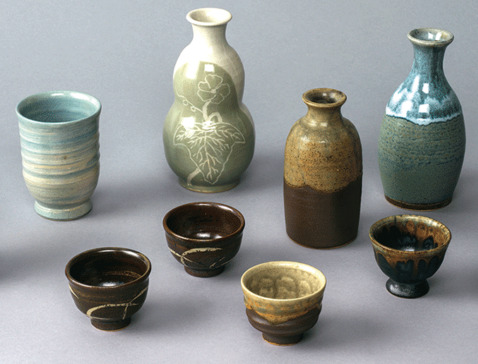 Mr Imanari studied under the late Mashiko pottery potter and living national treasure Shoji Hamada before opening the Otsuki Kiln. He also holds pottery workshops in small groups (reservation required).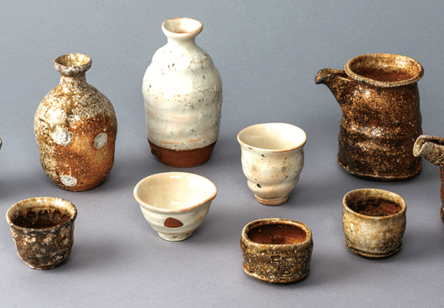 The Aguni studio was opened in 2001 by Iguchi, who studied Bizen ware. He also handles anagama firing.
Kashiwazaki City is home to Pakushi Dobo (Mr Hirokazu Sato), who opened his kiln in 1989, and Meijo ware Hengen Kiln (Mr Tsunetomo Katagiri), who opened his workshop in 1994 and built a handmade anagama kiln in 2014.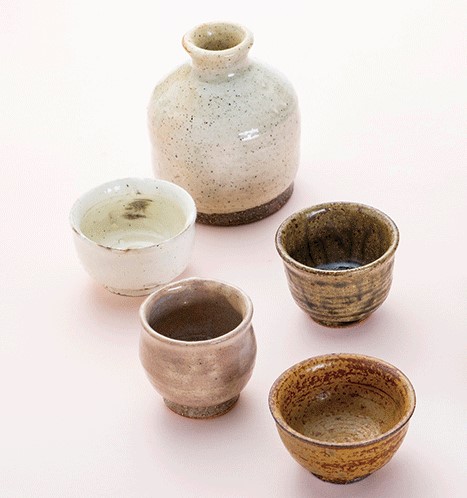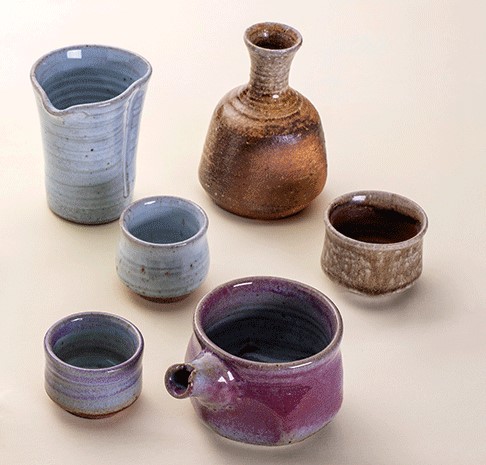 On the left is a piece by Pak Shi Dobo, which uses natural glazes and expresses individuality in its colour variations. On the right is a work by Mingcheng Ware's Hengen Kiln, which uses straw glaze.
Echigo pottery in Myoko includes Myoko Akakura Kiln ( by Zoshin Kuriyama) and Sumiyama pottery (by the late Nobuaki Hikuma), which is exhibited and sold at the Ikenodaira Onsen inn.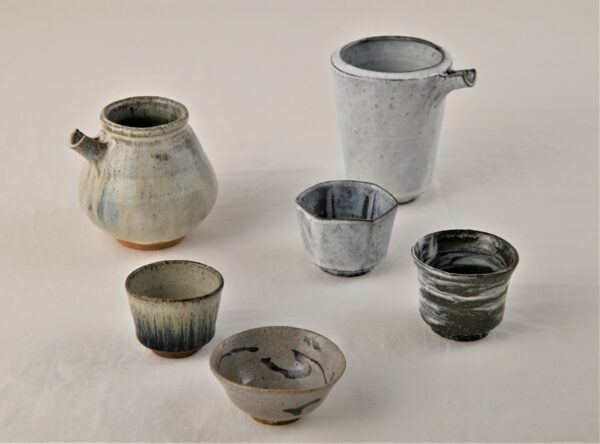 Echigo-Yaki Myoko Akakura Kiln sake cups with the charm of local clay and the texture created by the climbing kiln.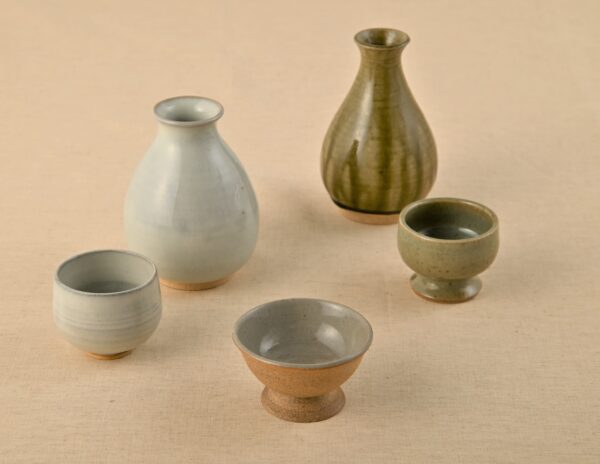 陶芸の宿エペレの先代の手による須弥山焼き。宿で展示販売している。 
Enjoy sake vessels & local sake in the station
Ponshukan shops in JR Echigo-Yuzawa, Nagaoka and Niigata Stations sell crafts and artists' sake cups from all parts of the prefecture, which the buyers have actually visited and found in each shop.
In addition, Ponshukan Craftsmanship at the Ponshukan Niigata Yoku branch, which sells products made by artisans in Niigata Prefecture, sells a selection of sake cups from all over the prefecture. Just looking at the sake cup corner will make you feel like you are travelling around the prefecture.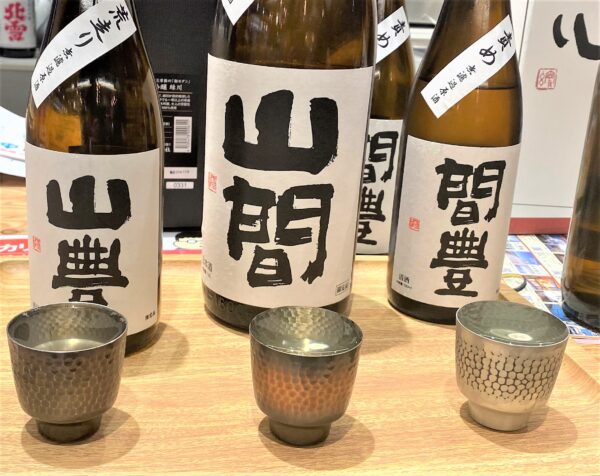 At tabibar, next to Craftsmanship, these drinking vessels can be used to taste premium local sake, including seasonal and limited quantities.
I want you to immerse yourself in Niigata's sake with two stories: the sake cups and the local sake.
Photo cooperation / Tomoko Takahashi, Nobuyuki Takahashi, Masako Naito, Yosuke Nakata, Glass Studio Craft You, Tamagawa-do.
高橋真理子
2022.07.01