Many people may be languishing and exhausted after the heat wave of early August.
We asked Makiko Teshima, food culture researcher, sake stylist and representative of Saishoku Ayami, which promotes Japanese culture, including sake, to the world, about how to enjoy sake in summer to blow away such fatigue.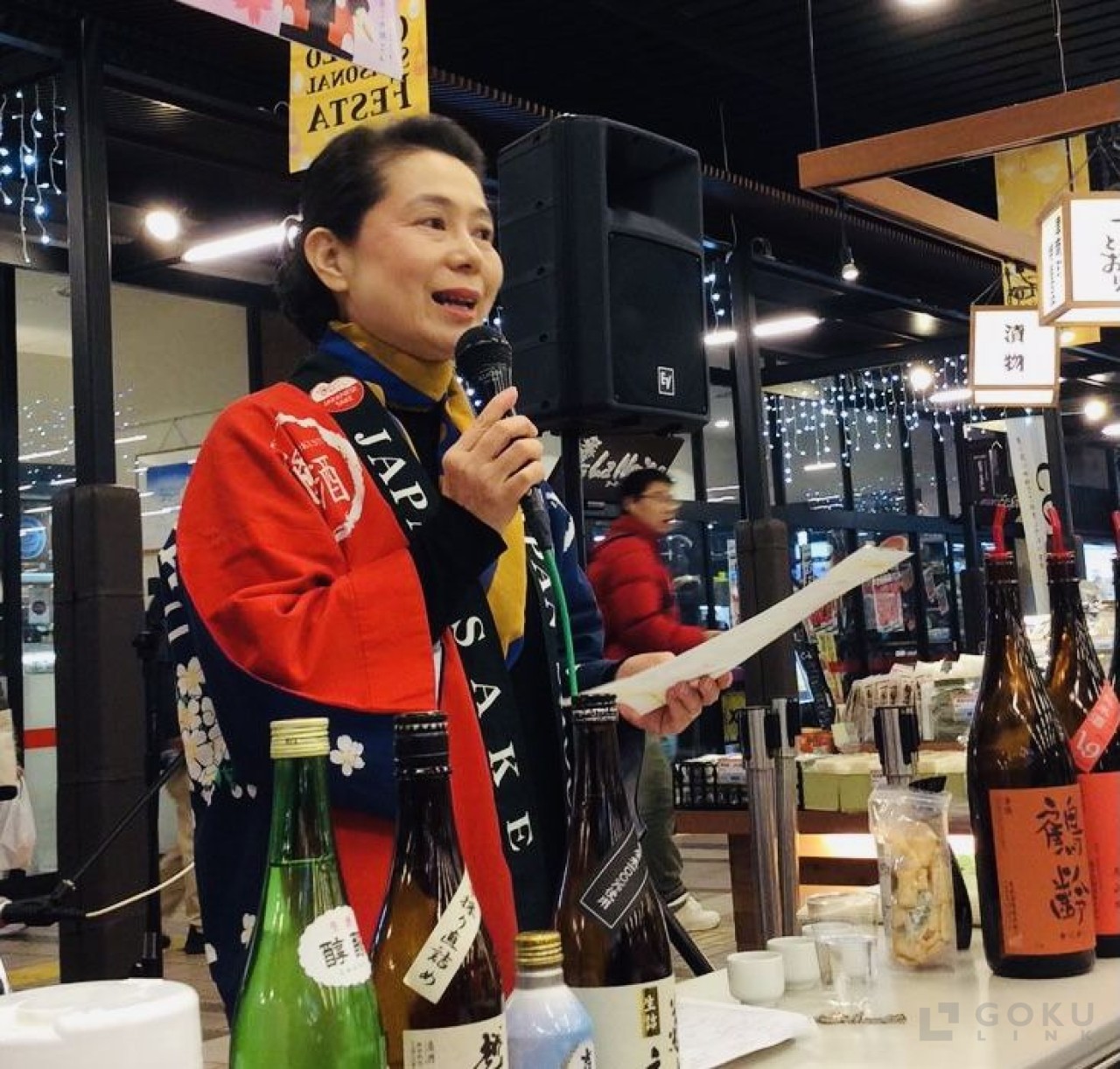 Original sake on the rocks and sake x beer cocktails.
A major characteristic of Niigata sake is that, whether the first sip is sweet or spicy, it finishes clean and leaves a clean aftertaste.
'The sharpness of Niigata sake makes it perfect on the rocks. It is very refreshing if you add ice to the undiluted sake and float herbs such as mint on top of it. As you want to enjoy the aroma of the herbs, the sake itself should not have a strong aroma. It doesn't have to be a premium sake, as long as it has a robust flavour, such as junmai or yamahai (mountain hai) sake."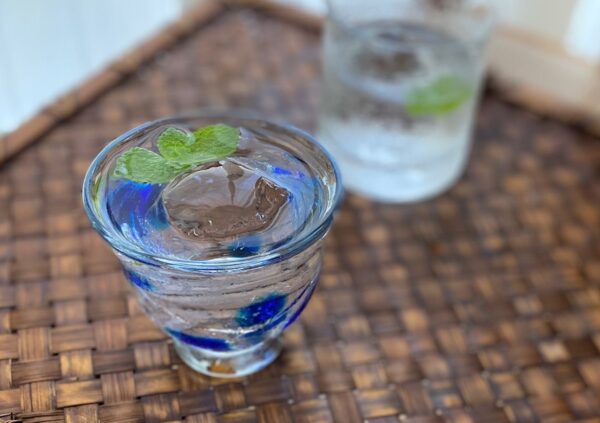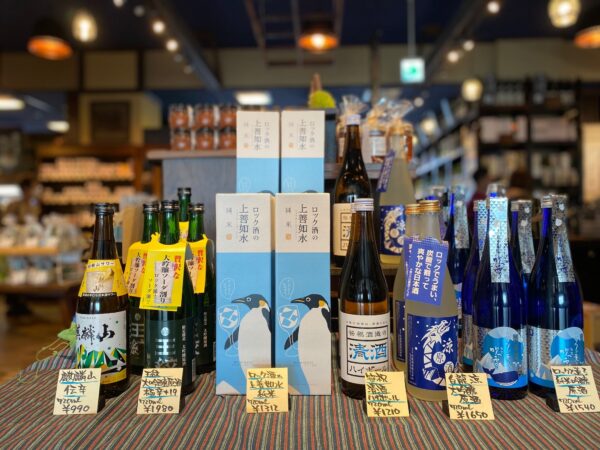 There is also a section of sake suitable for drinking on the rocks or with soda (Ponshukan Niigata Station).
The Central Association of Japanese Sake Brewers has long recommended sake cocktails as a way to enjoy sake in hot weather, and Mr Teshima has been responsible for disseminating this recommendation.
Many cocktails have a well-defined recipe, but there's a combination that's easy to make and tastes even better than you'd imagine: beer and nigori sake, just mix them together 1:1. It's like mixing nigori sake with sparkling water."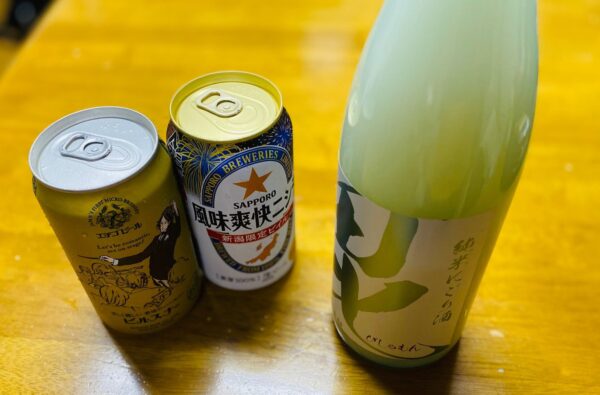 Beer and nigori sake. ...... I wonder what on earth it will taste like.
'The bitterness of the beer melds with the flavour and sweetness of the nigori sake to create an exquisite taste. It's very tasty. Of course, both should be well chilled, and pour the nigori sake first, then the beer vigorously. Even doburoku is delicious with its full-bodied flavour."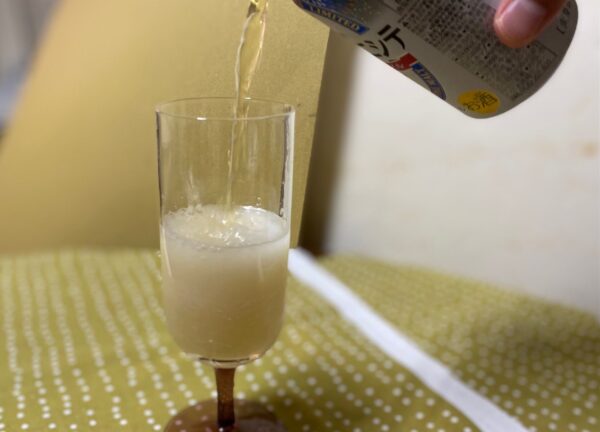 The key is to pour vigorously!
Adult free research = playing with sake
The best part of summer sake is that you can challenge yourself to drink in ways you wouldn't normally try.
Try different things with the intention of working on free research during the summer holidays.
One of the attractions of Niigata sake is the high quality of its cups.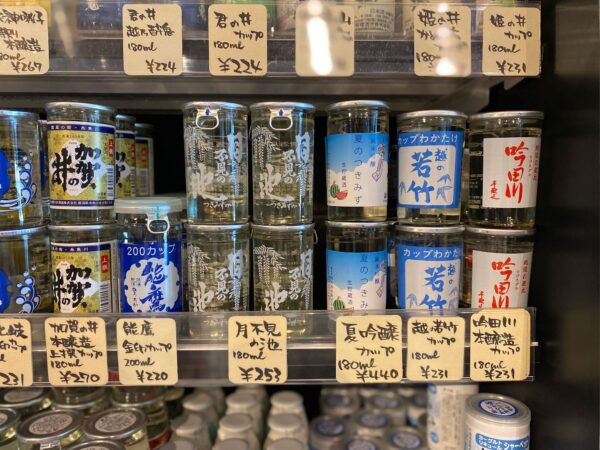 There are many varieties of cups of sake, which are exciting to look at. How to enjoy them only in summer -.
'Take the lid off the cup of sake, cover it fluffy with plastic wrap, poke a little hole in it to let air in, and put it in the freezer for two to three hours. Stir once and freeze again in the freezer for another 2-3 hours to produce an adult sake sorbet with a slightly bitter taste."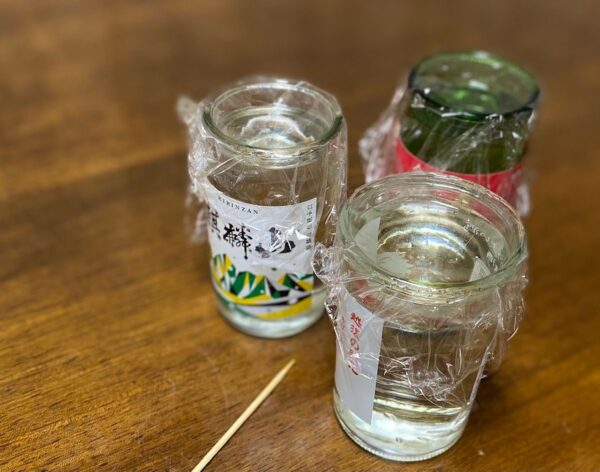 Once wrapped, poke holes with a bamboo skewer or similar.
Ponju sorbet! Just imagine how cool it will be.
'The caveat is that the alcohol content should be below 15 degrees. If the alcohol content is too high, it will not solidify. This is at a normal household freezer temperature of minus 18 degrees Celsius.
You can enjoy the hidden bitterness of sake on its own, or pour shaved ice syrup over it. They say it's also delicious topped with a julep made from local fruit."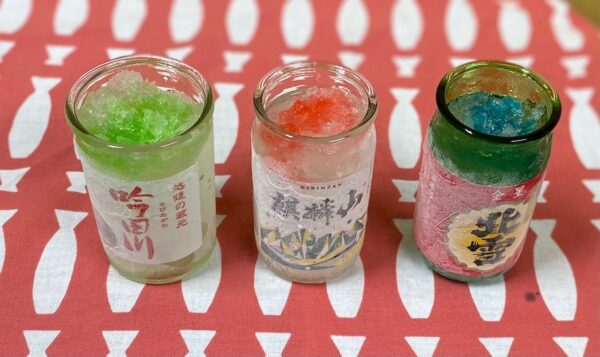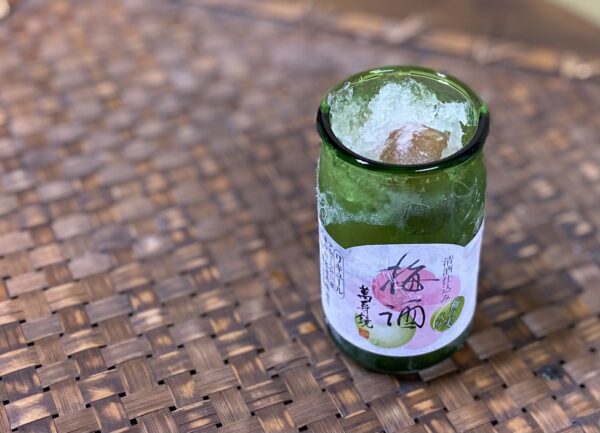 A cup of plum wine sorbet is also recommended. Eat it as it is, without pouring anything on it.
Another summer sake with fruit.
'Freeze a cut pineapple or a round hollowed-out melon, put it in a glass and pour the sake into it. As the fruit melts, it gradually adds flavour to the sake. The change in flavour is interesting. You can enjoy it like a fruit punch."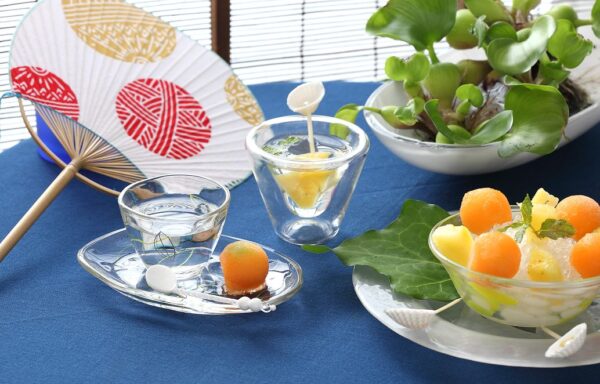 ©Colorful Food & Beauty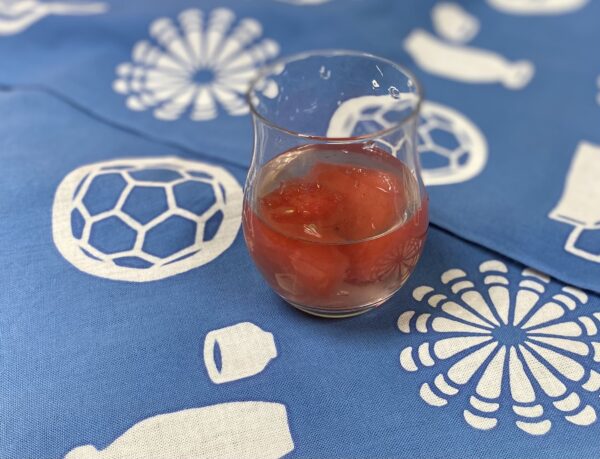 We also tried it with watermelon, Niigata's most popular summer fruit. The moderate sweetness is marvellous!
Finally, this is the sake that brings coolness! We were told about 'mizoreshu', a sake that brings coolness.
'Sleet wine is a prelude to sherbet. It's best to start with a quick drink when it's hot. I recommend the sweeter ones with a negative sake content.'
I am interested in how it is made.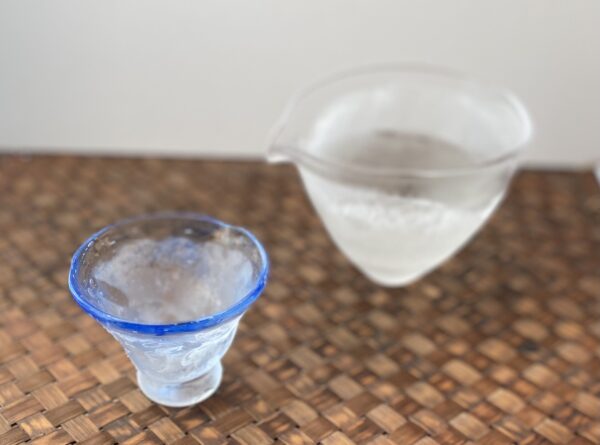 'Fill one glass cupped or other drinking vessel with sake, and prepare another empty glass, both of which should be frozen for about 90 minutes. The liquor will not freeze, but if you pour the liquor into the chilled empty glass, it will freeze as it hits the surface of the glass, forming sleet. A shot glass or a short tumbler with a sip to start you off will make you forget about the heat."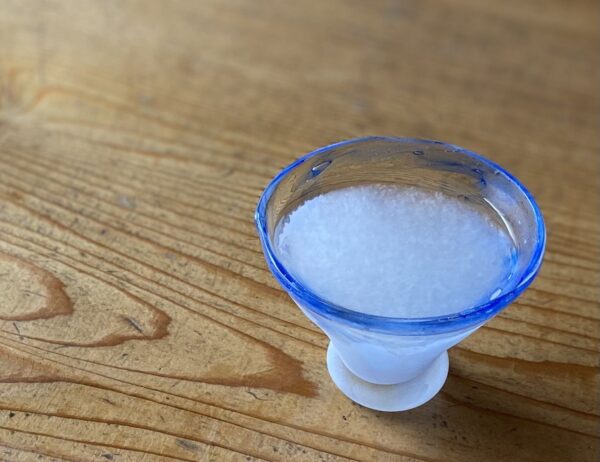 If you are drinking with a lot of people or want to have several drinks, you can fill plastic bottles with alcohol and keep many glasses chilled, they say.
'When filling a plastic bottle, don't fill it to the brim, as it will expand.'
The transformation into perfect sleet is achieved when several conditions, such as temperature and type of liquor, are perfectly matched. The ideal sleet shape may not always be achieved at home, so try using a cup of sake or other affordable alcoholic beverage under different conditions.
Play, have fun and beat the heat with sake this summer.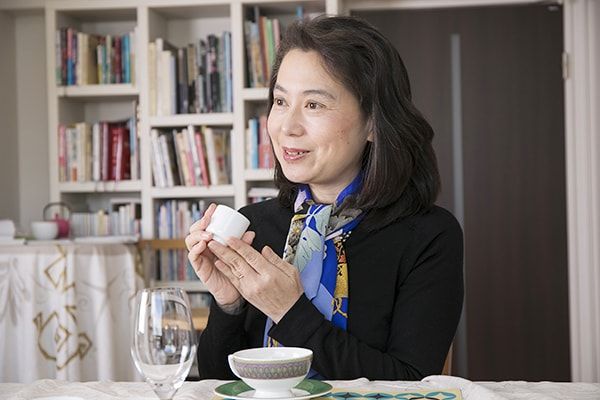 ©Colorful Food & Beauty
Makiko Teshima
Graduated from Keio University, President of Saishoku Ayami, food culture researcher. In addition to being a sake stylist certified by the Japan Sake Brewers Association, he is also an honorary sake taster and wine advisor certified by the Japan Sommelier Association, a certified intensive support specialist by the Reconstruction Agency, a director of the Japan Brewers Association and a supporter of the Japanese Pavilion at the 2015 Milan International Expo. With the theme of 'a rich life with sake', she is widely promoting sake pairings between sake from all over Japan and western cuisine such as Italian, new ways to enjoy 'sake as a lifestyle', and future style proposals for traditional Japanese food culture, both in Japan and abroad.
0Click here for forthcoming online sake courses.
Photo cooperation: Saishoku Ayami Photo cooperation: Ponshukan Niigata Yi
Editor-in-chief of cushu Techo andNiigata Hatsuri R.
 Mariko Takahashi
2021.08.11