There are currently 88 sake breweries in Niigata Prefecture. Although this number is lower than it was 25-30 years ago, when the number of sake breweries was said to be 108, the same as the number of sake breweries that run the "Yoru-no-Keppu" (New Year's bell), the number is currently the highest in Japan! Of the 30 municipalities, 21 have sake breweries. The nine municipalities that do not have a sake brewery can be considered at a later time. ...... Sake fans will immediately know which municipality has the largest number of sake breweries: Nagaoka City, with 16 breweries. This is followed by 14 breweries in Niigata City and 12 in Joetsu City.
Now that the Corona disaster has caused the cancellation of the prefecture's largest sake brewing industry event, Niigata Sake no Jin, for the second year in a row. Many may be saddened, but there are many ways to enjoy Niigata sake. One of them is a sake trip.
Real sake tours have the attraction of giving you a taste of the local atmosphere, while virtual sake tours that you can order in have the advantage of allowing you to enjoy your own pairing at home, using local ingredients to create dishes that go well with the local sake. This time, we take you on a sake tour of Nagaoka City, which has the largest number of sake breweries in the prefecture.
News spotlight!
On 21 November 2020, Nagaoka City hosted the event 'Fermentation Town Nagaoka HAKKO trip'. With AORE Nagaoka and Settaya as venues, visitors enjoyed drinking, eating, buying and experiencing fermented foods such as sake, miso and soy sauce, as well as walking around Settaya. Nagaoka City, which is on the offensive, holding events with full countermeasures even for the Corona Disaster, created two new spots last year that sake lovers should not miss.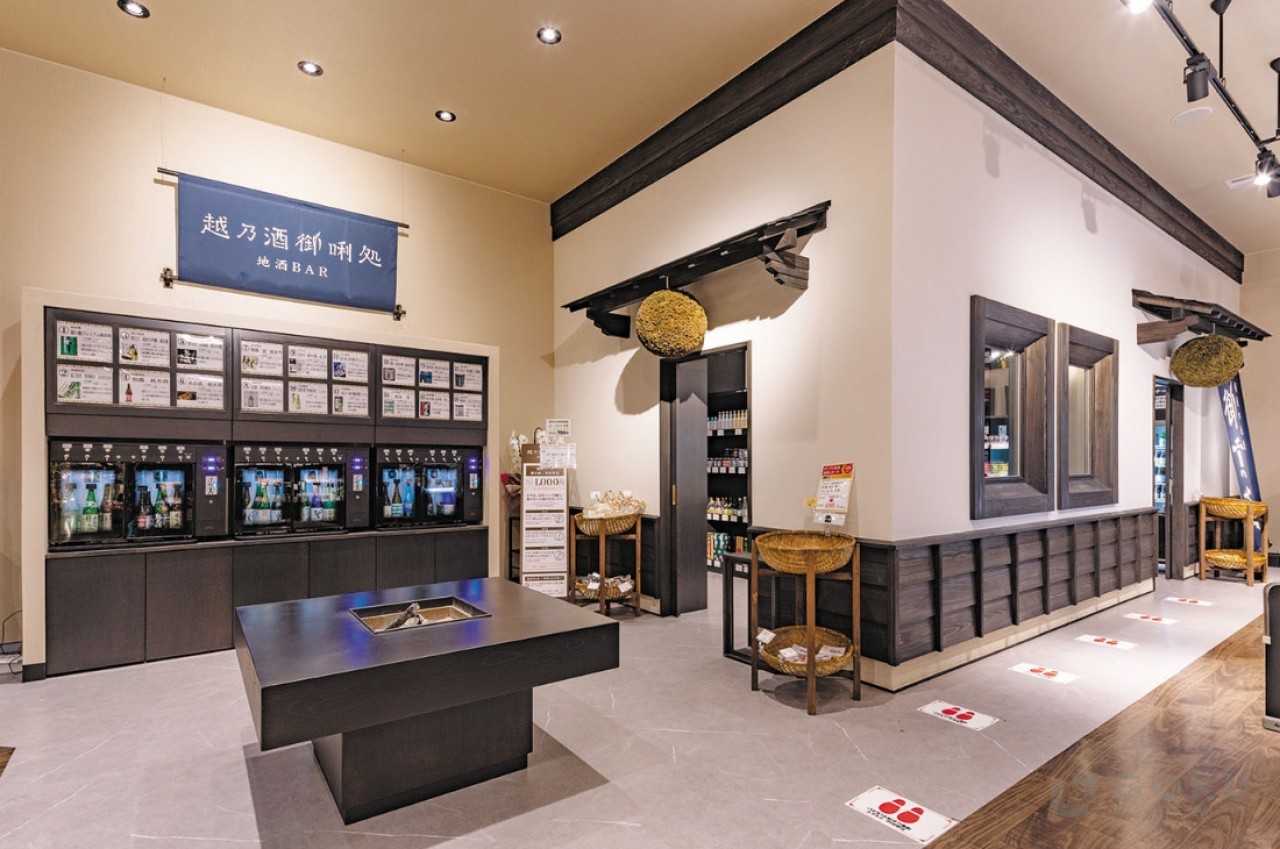 One is the Roadside Station Nagaoka Fireworks Museum, which opened on 18 September.
Roadside Station Nagaoka Fireworks Museum
At the 'Jizake Bar Koshinosake Onkisokitokoro' in the museum's Echigo Nagaoka Gokokuya (Echigo Nagaoka Gokokuya), you can sample local sake from 16 breweries in Nagaoka for a fee.
Echigo Nagaoka Gokokuya (Omitsugiya)
The sake changes every two to three weeks. There is also a service that uses Sakeai, an app developed by students at Nagaoka University of Technology, which uses artificial intelligence (AI) to select the sake in the restaurant according to your preferences. Those who install the app get a discount on tasting fees, so give it a try.
There is also a Yoshinogawa Sake Bar in the food court of the Fireworks Pavilion, so it is recommended to visit both.
The second newspot is the Setagaya 6th Street Fermentation Museum and Rice Storehouse, which opened on 17 October in the brewing town of Setagaya.
Setagaya 6 Fermentation Museum and Rice Storehouse
Inside the renovated rice storehouse of the Kina Saffron Sake Honpo, known for its trowel paintings, there is a café focusing on fermentation and a space where products from five breweries in the Setaya area can be purchased. Products from the two breweries in Setagaya, Hasegawa Sake Brewery and Yoshinogawa, as well as saffron sake, are also on sale.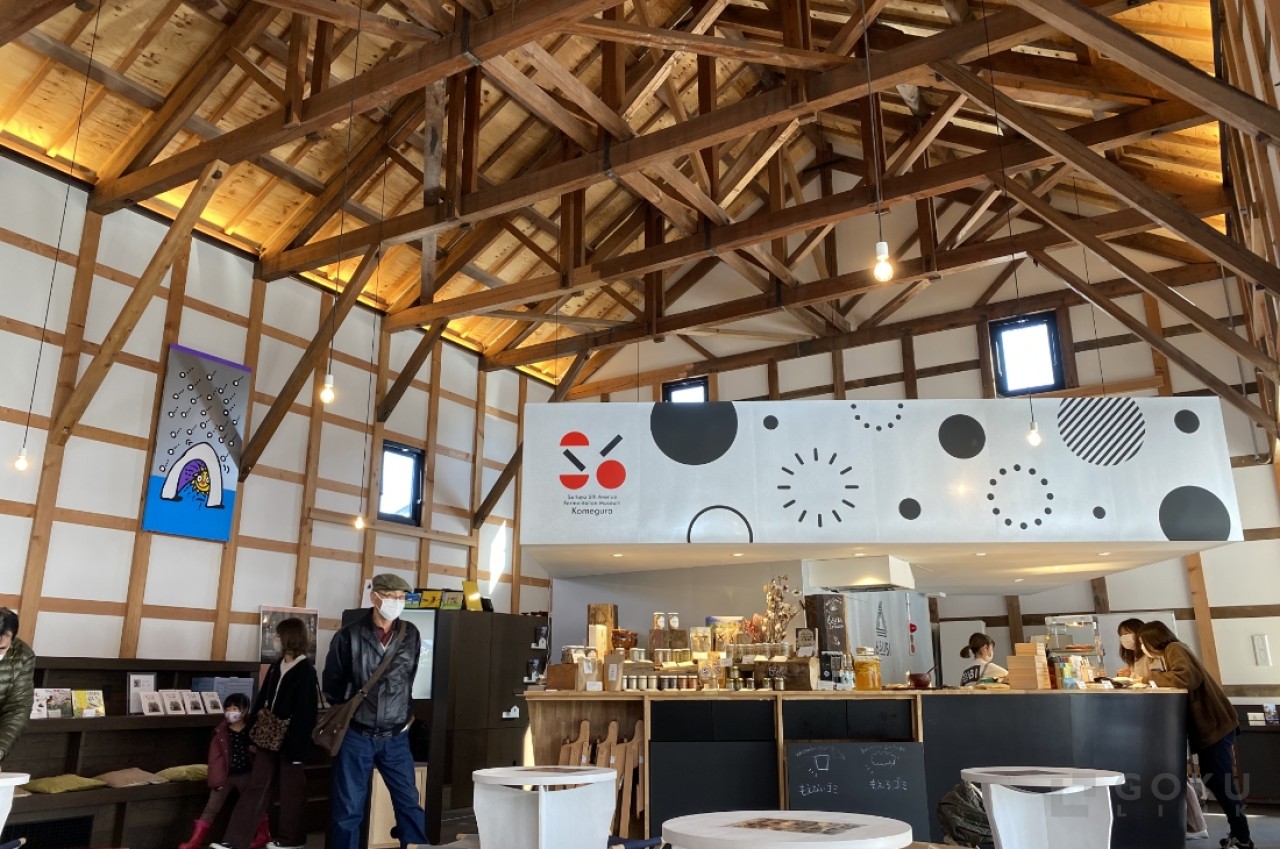 The Yoshinogawa Sake Museum Jozo, located across the road from the rice warehouse, offers paid tastings and sales, as well as a sake brewing-themed game experience.
Tours are not available at the Hasegawa Brewery, but products can be purchased on weekdays. Take a stroll down the elegant street, surrounded by the aroma of koji, leading from the Hoshino Honten, the brewer of miso and soy sauce.
advertisement
There's more! Tasting spots
Currently, the Asahi Shuzo brewery only offers a '20-minute tour course'. At Asahiyama, the 'Sake Raku no Sato' opposite the brewery, where the reception desk is located, you can enjoy a free (one glass) and paid tasting of Asahi Shuzo's local sake. As with the tours, the tastings are available on the same day, so non-drivers can enjoy them at their leisure.
Sake Rak (Sara) no Sato Asahiyama
The last is a sake bar in Nagaoka Station, where you can stop for a drink on your train journey.
At the Kikisazake Bansho (sake tasting room) in Ponshukan Nagaoka Station, there is a wide range of recommended brands from all the sake breweries in the prefecture! Compare Nagaoka's local sake. There are 16 breweries, so be careful not to drink too much.
Ponshukan Nagaoka Yeki Store, Kisazake Bansho (sake tasting room).
Paid tastings can also be enjoyed at the Sake Raku no Sato Asahiyama Ekinaka branch in the same station.
Shuraku no sato Asahiyama Ekinaka branch
The websites of 16 breweries in Nagaoka City have their own online shops and information on retail outlets, so home-drinkers can make use of the sites and enjoy the Nagaoka Sake Trip at home. And for after-consumption, enjoy a real Nagaoka sake trip.
*Please refrain from drinking alcohol if you drive a car.
Editor-in-chief of cushu Techo and Niigata Hatsuri R.
Mariko Takahashi
2021.03.11