Do you know the magazine LIFE-mag.
The editorial office is located in Gakkoumachi, Chuo-ku, Niigata City. K Connection is an interview magazine focusing on 'people' living in Niigata.
Hiroki Kobayashi is the creator of this magazine. Although it is a company, he actually does everything himself, from interviewing, writing, editing, design, sales, delivery and accounting. Under the motto "The diversity of ways of life is the richness of a city", the magazine is composed of long interviews on a variety of themes, including art and entertainment, politics, industry, religion and academia.
Latest issue 'Cut the Wind, Yield to the Darkness and Be the Light' released.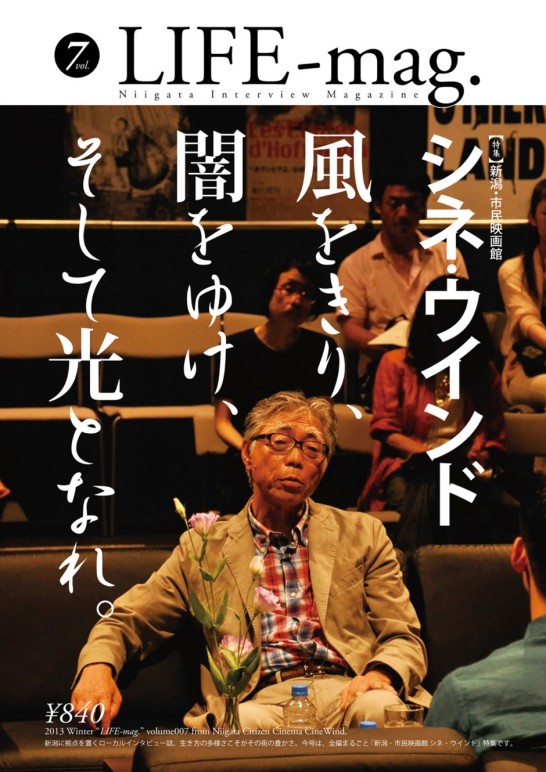 その「LIFE-mag.(ライフマグ)」の7冊目が発売されました。
This issue features Cine Wind, a civic cinema in Bandai City in the centre of Niigata City. The title is 'Cut the Wind, Yield to the Darkness, and Be the Light'.
The contents include a long interview with CineWind representative Masayuki Saito, who was an ordinary citizen. Interviews with and contributions from related parties. The film also includes a re-edition of the CineWind diary "Bessatsu Ano Ne" and much more.
In particular, the interview with Representative Saito was simply overwhelming. The passion of Mr Saito, who built the cinema from scratch by the hands of citizens, and Kobayashi-san, who also built the magazine from scratch by himself. As you read through the text, it was as if a passionate feeling was boiling up from the bottom of your heart. This was such an article.
CineWind created a stage for expression from scratch.
I came to Niigata ten years ago and took it for granted that there was a civic cinema, Cine Wind. In December 1985, when Cine Wind was first established, I was a baby, not even six months old. But when I read this magazine, I realised for the first time that CineWind was the result of one man risking his life and his collaborators sweating like mud.
CineWind continues to be a stage for all kinds of expression, including theatre and music, as well as film screenings. Learning the story of the birth of this place of expression created by citizens, I strongly felt that we young people must also make efforts to preserve it and participate more.
A magazine that shines a light on the stories of people nobody knew in Niigata.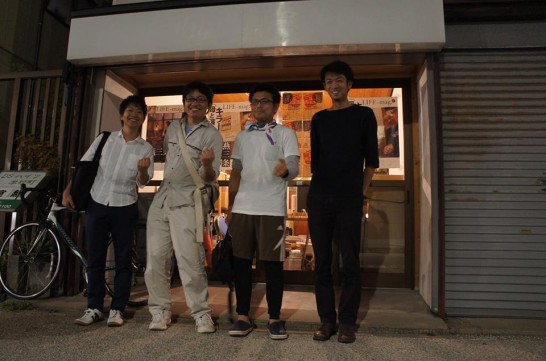 With Mr Kobayashi in front of the editorial office
Like Cine Wind, LIFE-mag. is also about the stories in Niigata that are not covered by the mass media. LIFE-mag. carefully listens to each of these stories, writes them down and continues to preserve them in the magazine. Not only famous people, but also many people who have been out of the spotlight for a long time and have been steadily building up their activities appear in the magazine.
Just one story, picked up and put into writing. That alone can become local content and lead to local enrichment. LIFE-mag." made me realise this. There is a media outlet that keeps a warm eye on Niigata, and takes it in. I think this is a source of pride for Niigata.
Niigata interview magazine LIFE-mag.vol007 [CineWind edition] "Cut the Wind, Yield the Darkness and Be the Light", published by Ippon Publishing House. It is now on sale.
Please read on.